"Get Inked" Teen Conference Makes Writing Fun

Go to http://www.michianawriterscenter.pbworks.com for information or contact Kathy Higgs-Coulthard at michianawriterscenter@gmail.com or (574) 220-8798.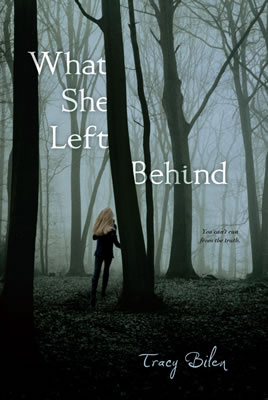 Each person who attends the "Get Inked"
teen writers conference will receive an
autographed copy of "What She Left
Behind" by young adult author and
keynote speaker Tracy Bilen.Media Contact:
Gwen O'Brien
Director of Media Relations
Saint Mary's College
(574) 284-4579
October 13, 2014 (Notre Dame, Ind.)—The Saint Mary's College Department of Education and the Michiana Writers' Center will sponsor a teen writing conference for students in grades 8-12 titled "Get Inked" on Saturday, November 8. The event will last from 8 a.m. to 4:30 p.m. and takes place in Madeleva Hall. The events start and end in Carroll Auditorium in Madeleva. Click for a campus map. The cost is $40 for students to attend the daylong event, which includes lunch and an autographed copy of the book "What She Left Behind" by young adult author and keynote speaker Tracy Bilen.
Click to register or for more information.
Through interactive workshops with published authors, teens will receive practical tips on how to keep their writing interesting. While the conference is designed for teen writers, it is not limited to those who do well in school writing and may provide inspiration for future school writing assignments.
To reserve a spot, please register soon. Space is limited. Those students registered by Friday, October 17 will be given preference but registration will be accepted until all slots are filled. Contact the teen writing conference coordinator/director of the Michiana Writers' Center Kathy Higgs-Coulthard, via email michianawriterscenter@gmail.com or call her at (574) 220-8798 with questions.
Please mail registration and payment to:
Get Inked Conference
Attn: Kathy Higgs-Coulthard, Education
232 Madeleva Hall

Saint Mary's College

Notre Dame, IN 46556
Teachers may attend, free of charge, from 8 to 11:30 a.m. They will be treated to Bilen's keynote speech, a writer's marathon, and information about the National Writing Project, an organization that supports teachers as writers. Teachers may RSVP at michianawriterscenter@gmail.com.
About Saint Mary's College: Saint Mary's College, Notre Dame, Ind., is a four-year, Catholic, residential, women's liberal arts college offering five bachelor's degrees and more than 30 major areas of study, such as business, nursing, art, chemistry, and social work. The College's single-gender environment has been proven, in study after study, to foster confidence, ethical leadership, and strong academic success. Saint Mary's College ranks among the top 100 Best National Liberal Arts Colleges for 2015 published by U.S. News & World Report. Founded in 1844 by the Sisters of the Holy Cross, Saint Mary's College's mission is to educate women and prepare them for postgraduate success whether it's a first job, graduate school, or postgraduate service.
Press release composed by media relations intern Haleigh Ehmsen '16, a communication studies and English writing double major.