Glenda Ritz, State School Superintendent, to Speak at Saint Mary's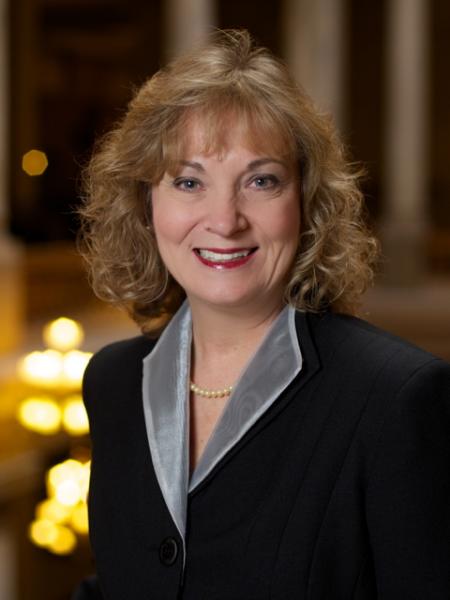 Glenda Ritz, Indiana State Superintendent
of Public InstructionContact:
Gwen O'Brien
Director of Media Relations
Saint Mary's College
(574) 284-4579 
October 15, 2013 (Notre Dame, Ind.)—Saint Mary's College is proud to announce that Glenda Ritz, state superintendent of public instruction, and Matthew Tully, an Indianapolis Star political columnist, will speak at the College on Monday, November 11 at 6 p.m. While the event is designed for students studying education at Saint Mary's, the College community and the public are invited to attend this free event. The presentation, "A Dialogue on Education in Indiana," will be held in Carroll Auditorium of Madeleva Hall. (Click for a campus map.) The Saint Mary's Department of Education and the Cross Currents Office are sponsors for the event. (SPACE IS LIMITED. PLEASE ARRIVE EARLY TO EVENT TO GET A SEAT.)
In their dialogue, Ritz and Tully will address some of the most controversial issues facing public education in America today, such as the impact of high stakes testing on student learning, curriculum, and teacher and school evaluations; the adoption of and transition to the Common Core State Standards; and the impact of vouchers on public schooling. Indiana's voucher system is the broadest in the country.
"Indiana is a microcosm for what is happening with education across the country," noted Amy Gillan, assistant professor of education who helped organize the event. "The education students at Saint Mary's are starting their careers in a time when those outside of the field are empowered to make decisions that impact classroom teaching and learning in many states across the country."
This will be Ritz's first visit to the College. Gillan explained that Tully will add an informed perspective on education as he routinely follows, deciphers, and challenges controversial issues in the field. During their discussion, there will be opportunities for questions and comments from the audience, and a public reception will immediately follow the event.
Media, for more information on this event, please contact Amy Gillan, an assistant professor of education,at agillan@saintmarys.edu.
About Saint Mary's College: Saint Mary's College, Notre Dame, Ind., is a four-year, Catholic, residential, women's liberal arts college offering five bachelor's degrees and more than 30 major areas of study, such as business, nursing, art, chemistry, and social work. The College's single-gender environment has been proven, in study after study, to foster confidence, ethical leadership, and strong academic success. Saint Mary's College ranks 76 among the 248 "Best National Liberal Arts Colleges" for 2014 published by U.S. News and World Report. Founded in 1844 by the Sisters of the Holy Cross, Saint Mary's College's mission is to educate women and prepare them for postgraduate success whether it's a first job, graduate school, or postgraduate service.