2012 Honorary Doctor of Humanities Degree Recipient
Award Citation for Kathleen Flynn Fox '74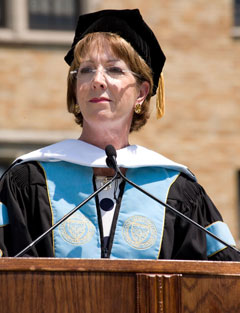 Kathleen Flynn Fox '74 offers a few words of
reflection after receiving an honorary doctorate
from her alma mater at Commencement. A Saint Mary's College education is not solely for the benefit of the individual student, but also for the benefit of the broader society. Kathleen Flynn Fox, a successful businesswoman, has dedicated more than 30 years of her life to service and advocacy on behalf of those most in need. It has been said that she is equally at ease in a boardroom making important decisions as she is sitting on the floor reading to a child with learning challenges.
Since 1980, she has been an avid volunteer working directly with children, promoting children's literacy, and supporting programs that assist those in poverty. She has volunteered at a literacy program for Head Start Children working with families who do not speak English and at the Christ Child Society's South Bend Clothing Distribution Center. She also volunteers as a business plan competition judge for the University of Notre Dame's Mendoza School of Business. Her professional experience includes working as a partner with Silver Fox Partners, sole proprietor of Silver Fox Marketing, and vice president of Lieberman Enterprises.
Fox, who graduated from Saint Mary's with a degree in history, has shared her business, marketing, and communications expertise on the boards of numerous organizations including Catholic Charities USA, Catholic Charities of Minneapolis/St. Paul, Minnesota, and St. Joseph's Home for Children. For three years she served as the chair of Catholic Charities USA's Centennial Steering Committee, where she led the planning and implementation of a twelve city Centennial Celebration. In 2010, Catholic Charities USA presented its Centennial Medal to her in recognition of her volunteer service.
Devoted to her family and loyal to her many friends, her dedication and leadership ability have been recognized by all she has served. Saint Mary's College recognizes her outstanding professional accomplishments and her commitment to volunteerism and improving the lives of the most vulnerable. We honor her humility, dedication, and passion.
President Mooney, I present to you Kathleen Flynn Fox, and ask that you, on behalf of the Board of Trustees of Saint Mary's College, confer upon her the degree of Doctor of Humanities, Honoris Causa.
Address by Recipient Kathleen Flynn Fox '74
Thank you President Mooney, Sisters of the Holy Cross, and Trustees. Good afternoon, graduates.
I grew up about 30 miles down the road in Plymouth, Indiana. It is a rural town that to this day boasts a vibrant Catholic grade school. When I was a student there, it was staffed by the Sisters of the Holy Cross.   
Sister Aloysius was our principal, and the combined 7th and 8th grade classes were taught by Sister Mary Macrina.  It was in her classroom that we 7th grade students were first expected to memorize and recite poetry, listen to classical music and identify the composer, and to study and appreciate works of art that had been created centuries before any of us were born. 
Every spring, St. Michael Catholic Grade School puts on a talent show for the whole community to enjoy.
The year I was in 7th grade, one of the bigger kids was having a difficult time memorizing his lines for the 8th grade skit.
Sister Macrina asked me to help him, AND I DID …everyday DURING RECESS for almost two weeks! The day of the talent show came and the 8th grade boy, my 8th grade boy, performed flawlessly. While basking in the glow of his success, I realized that he had not thanked me, nor had he recognize in any way me for helping him…. and that did not sit well with this 7th grade girl. 
Before the day was done,  I found Sister Macrina in our classroom. I told her that the 8th grade boy had not acknowledged me for what I had done for him. I expected her to be just as annoyed at him as I was; to my surprise, but she wasn't. She looked up from her desk, caught me square in the eye and said, "To whom much is given, Kathleen, much is expected."  And she went back to grading papers. 
I had no idea what that nun was talking about.
That night, my parents helped me understand that in Sister's world, here was a boy who needed help, and here was a girl who  could help him. The boy performed his role better than anyone could ever have imagined.  Little did I know it, Sister Macrina had expected that from me, she had trusted me with that positive outcome. And so had the boy.
"To whom much is given, much is expected"
Graduates, I wish you lives filled with meaning and joy. I have shared with you a simple lesson, taught to me by a Sister of the Holy Cross. This lesson seems to percolate often in my life. The lesson has urged me to think a little more or work a little harder when I really just wanted to be done. Her lesson gave me permission to go about my life's work without seeking personal recognitions for participating in someone else's success.       
And if I may, on this glorious day, in this beautiful courtyard, at the college my 7th grade teacher called home, let me echo her admonishment just one more time: "To whom much is given, much is expected." Sister Macrina, thank you.