2013 Humanitas Award Recipient Announced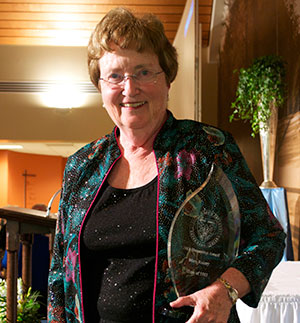 Mary Rainey '63, the 2013 recipient of the
Humanitas Award. Click to watch her
remarks at the podium.Contact:
Gwen O'Brien
Director of Media Relations
Saint Mary's College
(574) 284-4579
June 3, 2013 (Notre Dame, Ind.)—The Humanitas Award, awarded annually by the Alumnae Association of Saint Mary's College, recognizes an alumna of the Catholic liberal arts women's college who is outstanding in her personal and volunteer accomplishments and is recognized for her concern for the interests and welfare of her fellow human beings. Her actions exemplify the qualities of personal dedication, compassion, selflessness and sacrifice through social action, education, and reform within the community, the Church, and the world.
The 2013 recipient is Mary Rainey '63, who is recognized for her lifelong service in literacy, education for women and families, and disaster relief, and her unwavering commitment to people in need around the world. Rainey is a resident of the Sarasoto, Florida area and a former resident of Akron, Ohio.
Led by her faith, Rainey has lived a life of service since high school, when she joined the Young Christian Students group. At Saint Mary's, Rainey obtained bachelor's degrees in Christian Culture and history, with a minor in philosophy. Rainey was inspired to join the Peace Corps after graduation and was stationed in the Republic of the Philippines on the Island of Mindoro, where she taught grade school to children who often lived in poverty and became school dropouts after grade two.
In nominating Rainey for this award, classmate and friend Judith Reardon '63 said of her Peace Corps work, "[Mary] jumped in with all of her heart, learning not only how to teach and care for the impoverished, but learning at an even deeper level that this, indeed, was her calling. Her service in the Philippines as a member of the Peace Corps solidified for her that she was meant to serve. Then, as now, her innate tolerance of differing cultures, beliefs, and lifestyles was a hallmark of her character that shone through to those she served."
After returning from the Philippines, Rainey obtained her master's and doctorate degrees in comparative and international education from Michigan State University. Her career centered on education and literacy and included work for The Asia Society of New York, University of Guam, and Michigan State University, where she established the International Center for Non-Formal Education. She did so while earning a post-doctorate in family ecology, and co-authoring articles and a book with colleagues on women, families, and non-formal education.
In 1980 Rainey began a 20-year tenure at the University of Akron in Ohio, where she was a professor in the Child and Family Studies Department and director of the School of Family and Consumer Science. She was awarded a second sabbatical using it to do graduate studies in gerontology. Meanwhile, in returning to Akron, Rainey continued her service work. She chaired the Board of Directors of the Good Samaritan Hunger Center in Akron and served as Chair of the Board of the Newman Foundation of the Cleveland Diocese, which supported Catholic campus ministries at seven Ohio universities and worked to engage Christian men and women.
Upon her retirement from the university, Rainey answered a new call—one that put her in service of those recovering from major disasters. Rainey joined the American Red Cross. As a volunteer she was deployed three times to the Gulf Coast in the wake of Hurricane Katrina and Gustav, traveling across the U.S. to help, including, most recently, to the scene of Hurricane Sandy. 
Rainey now serves as a lead volunteer with the American Red Cross Southwest Chapter in Sarasota, Florida, where she has taught and helped organize more than 1,500 volunteers for disaster relief. She received the Red Cross National Disaster Response and Preparedness Volunteer Award. In the words of Rainey's classmate and friend, Kathryn Wiedl Mettler '63, her dedication to the less fortunate "portrays her fervent engagement in Christ's work on earth as an ambassador of good works and good will."
Click for information on the other 2013 Alumnae Association Award recipients. 
About Saint Mary's College: Saint Mary's College, Notre Dame, Ind., is a four-year, Catholic, residential, women's liberal arts college offering five bachelor's degrees and more than 30 major areas of study, such as business, nursing, art, chemistry, and social work. The College's single-gender environment has been proven, in study after study, to foster confidence, ethical leadership, and strong academic success. Saint Mary's College ranks among the top 100 "Best National Liberal Arts Colleges" for 2013 published by U.S. News. Founded in 1844 by the Sisters of the Holy Cross, Saint Mary's College's mission is to educate women and prepare them for postgraduate success whether it's a first job, graduate school, or postgraduate service.