Mary Kay Brady Turner '64 Receives 2014 Humanitas Award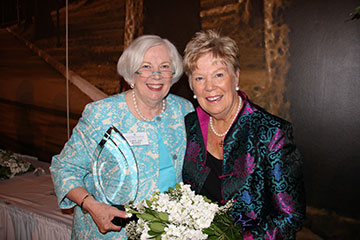 Humanitas Award recipient Mary Kay Brady Turner '64 poses with
Saint Mary's College President Carol Ann Mooney.Contact:
Gwen O'Brien
Director of Media Relations
Saint Mary's College
(574) 284-4579
June 1, 2014 (Notre Dame, Ind.)— The Humanitas Award, awarded annually by the Alumnae Association of Saint Mary's College of Notre Dame, IN, recognizes an alumna of the Catholic liberal arts women's college who is outstanding in her personal and volunteer accomplishments and is recognized for her concern for the interests and welfare of her fellow human beings. Her actions exemplify the qualities of personal dedication, compassion, selflessness and sacrifice through social action, education, and reform within the community, the Church, and the world.
This year's recipient is Mary Kay Brady Turner '64 of Moose, WY, for her lifelong service in literacy, education for women and families, and disaster relief, and her unwavering commitment to people in need around the world. The award was announced Saturday, May 31, at the Reunion Banquet held on campus.
Where most others see a problem, Turner sees opportunity for change and improvement, according to her award citation. That view of the world began between her junior and senior years at Saint Mary's College. Turner, a history major, spent that summer at Rocky Boy Reservation in Montana and returned with two classmates in tow the next semester. She spent a year on the reservation, teaching in its public school and assisting the local priest with his mission. While this act of service required a 2,000-mile train ride, it's nothing compared to the reach Turner's compassion has achieved since then.
In 2003 Turner cofounded Holy Land Christians Society (HLCS) and serves as its president. HLCS is a nonprofit organization dedicated to promoting peace and assisting residents of the Holy Land. The organization provides scholarships, microfinance, education infrastructure, and medical care at an orphanage. This organization started after Turner met a Christian Palestinian while teaching her world religions class at Bishop O'Connell High School in Virginia.
HLCS is merely Turner's latest attempt to change the world for the better, the award citation states. In 1977 she cofounded the Teton Learning Center, a preschool educational program which today provides child care and early education, Early Head Start and Head Start, and special education. The next year, Turner helped establish a five-county regional mental health center in northwest Wyoming, a rural delivery system offering counseling services for individuals and families suffering with substance abuse or emotional issues. In 1980 she cofounded Summit High School, an alternative high school in Jackson where students who do not thrive in the traditional high school setting find success in small classrooms, with one-on-one instruction, through experiential learning, and strong accountability.
In 1989 Turner and her family moved to Washington, DC. While there, she was asked to join the Defense Advisory Committee on Women in the Service (DACOWITS), a committee of civilian women and men appointed by the Secretary of Defense to provide advice and recommendations on policies concerning women in the Armed Services.
In addition to her commitment to HLCS, Turner also serves on the Board of Directors for Interconnections 21, a group that welcomes visitors from around the world to learn about American culture, government, and business. She is also director of religious education for youth and teens at her parish, Our Lady of the Mountains.
In the words of Susan Shalgos Wolsfeld '64, one of Turner's nominators, "Mary Kay is steel under velvet."
About Saint Mary's College: Saint Mary's College, Notre Dame, Ind., is a four-year, Catholic, residential, women's liberal arts college offering five bachelor's degrees and more than 30 major areas of study, such as business, nursing, art, chemistry, and social work. The College's single-gender environment has been proven, in study after study, to foster confidence, ethical leadership, and strong academic success. Saint Mary's College ranks 76 among the 248 "Best National Liberal Arts Colleges" for 2014 published by U.S. News and World Report. Founded in 1844 by the Sisters of the Holy Cross, Saint Mary's College's mission is to educate women and prepare them for postgraduate success whether it's a first job, graduate school, or postgraduate service.