"The Immortal Life of Henrietta Lacks" Speaking Engagements Coming up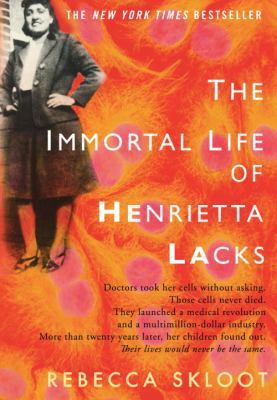 Contact:

Gwen O'Brien
Director of Media Relations
Saint Mary's College
(574) 284-4579
February 4, 2013
(Notre Dame, Indiana)—Saint Mary's College is proud to welcome bestselling author Rebecca Skloot and David "Sonny" Lacks to campus on two separate occasions this month. Skloot, author of the New York Times Bestseller "
The Immortal Life of Henrietta Lacks
," will speak at the College on
Wednesday, February 27
at 7:30 p.m. in O'Laughlin Auditorium. David Lacks, son of Henrietta Lacks, will offer a question-and-answer session at the College on
Tuesday, February 12
at 7:30 p.m in Carroll Auditorium, Madeleva Hall.
Click for ticket information at moreaucenter.com.
Click to download a campus map.
 "The Immortal Life of Henrietta Lacks" is a non-fiction narrative about a poor black tobacco farmer whose cancer cells were taken without her knowledge in 1951. The fast reproducing cells, known by scientists as HeLa for Henrietta Lacks' first and last names, became one of the most important tools in modern medicine. HeLa cells were used in the development of the polio vaccine, gene mapping, and more. The cells have been bought and sold by the billions, yet Henrietta Lacks remains virtually unknown, and her family can't afford health insurance.
"We thought that it was important to incorporate the family into campus programming because they received little to no compensation for the use of their mother's genes and to leave them out would perpetuate that injustice," said Stephanie Steward-Bridges, committee member and director of Student Involvement and Multicultural Services.
Laura Williamson Ambrose, assistant professor of humanistic studies and a member of the committee, pointed out the interdisciplinary opportunities the book offers—science and philosophy (medicine and ethics), history and political science (race and civil rights), literature, and even art (photographs of HeLa cells are described in the book as quite beautiful). Ambrose is teaching the book in her Lives and Times course this year.
"The Immortal Life of Henrietta Lacks" is this academic year's selection for One Book, One Saint Mary's, an annual community-reading project organized by the College's Alumnae Association. One Book, One Saint Mary's connects alumnae, students, faculty, and staff by reading the same book. It's the third year for the program. The One Book selection is often a title that Saint Mary's students are reading in current courses, as is the case this time.
It is a fortunate coincidence that alumnae suggested "The Immortal Life of Henrietta Lacks" for One Book at the same time that the College's Committee on Cultural Affairs considered bringing the author to campus as a lecturer. The Committee was eager to invite a member of the Lacks family to campus as well.
Carolina Tapia '14 is on the One Book task force, an offshoot of the Alumnae Association Board of Directors Alumnae Engagement Committee, which oversees the book selection process. She's excited to have the speakers coming to campus to talk about the book.
"It's a unique opportunity to have the author (and son) come and discuss all of the different themes within the book that appeal to such a wide audience," Tapia said.
About Saint Mary's College: Saint Mary's College, Notre Dame, Ind., is a four-year, Catholic, women's institution offering five bachelor's degrees and more than 30 major areas of study. Saint Mary's College has six nationally accredited academic programs: social work, art, music, teacher education, chemistry and nursing. Saint Mary's College ranks among the top 100 "Best National Liberal Arts Colleges" for 2013 published by U.S. News. Founded in 1844, Saint Mary's is a pioneer in the education of women, and is sponsored by the Sisters of the Holy Cross.