Professor/Associate Dean of Faculty Honored with Spes Unica Award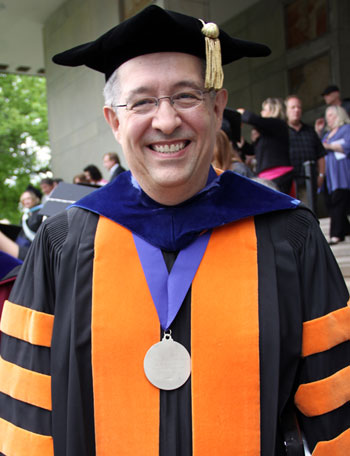 Professor Joseph Incandela, a 2012
recipient of the Spes Unica Award. Contact:
Gwen O'Brien
Director of Media Relations
Saint Mary's College
(574) 284-4579
May 8, 2012 (Notre Dame, Ind.)—Saint Mary's College President Carol Ann Mooney presented Joseph Incandela, associate dean of faculty and professor of religious studies, with the Spes Unica Award at Honors Convocation on Sunday, May 6. The Spes Unica Award recognizes a faculty member's eminent service to Saint Mary's College. Contributions can be in the area of teaching, scholarship/ creative activity and/or service.
According to his award citation read by Senior Vice President and Dean of Faculty Patricia Fleming, Incandela's contributions to Saint Mary's extend well beyond those made in the classroom, or even within the Department of Religious Studies, which he chaired for many years. The Spes Unica Award honors him for the pivotal role he played (and is still playing) in the development, adoption, and implementation of the Sophia Program in Liberal Learning, the College's new general education program. The first phase of the Sophia Program will be implemented this fall with the incoming Class of 2016.
Incandela, as stated in the citation, has been the constant presence shepherding the process through all of its phases: he chaired the Ad Hoc Committee on General Education; he participated in or served as liaison to all three design teams, and he is an ex-officio member of the Sophia Program Curriculum Committee. In doing so, he brought a commitment to transparency and consensus building to the process. The citation states that over the last five years, Incandela has given the time that was needed to ensure success, while demonstrating a patient, but determined commitment. He is recognized as one person who was "in the trenches" every step of the way and who was the guarantor of the outcome.
"The development of the Sophia Program in Liberal Learning, and its adoption by the Board of Trustees, represent a monumental achievement for Saint Mary's College. On the eve of its implementation, it is most fitting to recognize and honor the person who was the heart of the team that made it all possible," Fleming read as Mooney presented Incandela the award.
About Professor Joseph Incandela: Joseph Incandela is a professor of religious studies at Saint Mary's College. He serves as the associate dean of faculty and the Joyce McMahon Hank Aquinas Chair of Catholic Theology. He completed a bachelor's degree summa cum laude in philosophy and theology at the University of Notre Dame and a master's of arts and a doctor of philosophy from Princeton University's Department of Religion. Professor Incandela is listed in Who's Who Among America's Teachers. He has authored articles on medieval theology, Christian ethics, and contemporary philosophy of religion. In 1995, Saint Mary's College recognized him with the Maria Pieta Award for excellence in teaching.
About Saint Mary's College: Saint Mary's College, Notre Dame, Ind., is a four-year, Catholic, women's institution offering five bachelor's degrees and more than 30 major areas of study. Saint Mary's College has six nationally accredited academic programs: social work, art, music, teacher education, chemistry and nursing. Saint Mary's College ranks among the top 100 "Best National Liberal Arts Colleges" for 2012 published by U.S.News and World Report. Founded in 1844, Saint Mary's is a pioneer in the education of women, and is sponsored by the Sisters of the Holy Cross.