Accounting Students Place Second in CPA Collegiate Contest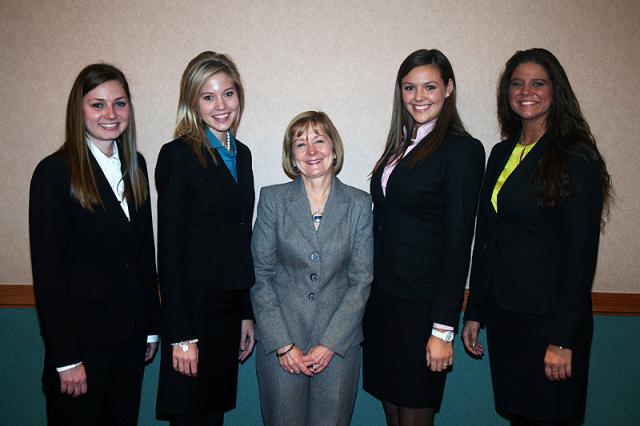 Professor Mary Ann Merryman, center, poses with the Saint Mary's
INCPAS team. From left to right are Morgan Mlinac '14, Christina
Boesler '14, Christine Czajkowski '14, and Chelsea Pacconi '13.Contact:
Gwen O'Brien 
Director of Media Relations
Saint Mary's College
(574) 284-4579
November 28, 2012 (Notre Dame, Ind.)–Saint Mary's College is proud to announce that its accounting team came in second place in the annual Indiana CPA Society (INCPAS) Case Study Competition held in Indianapolis on November 16.

Teams from all Indiana colleges and universities with accounting programs were invited to compete. A dozen schools participated and six were chosen as finalists. Saint Mary's competed against finalist teams from Indiana University-Purdue University Indianapolis, Manchester University, Purdue University, the University of Southern Indiana and Valparaiso University. The four-person finalist teams made their oral presentations before four CPA judges and the winners were announced that evening.
The Saint Mary's team is made up of Chelsea Pacconi '13 of Pittsburgh, Pa., Morgan Mlinac '14 also of Pittsburgh, Pa., Christina Boesler '14 of Edwardsburg, Mich., and Christine Czajkowski '14 of Bloomingdale, Ill. Pacconi was on last year's Saint Mary's team which won 1st place. Accounting and business professor Mary Ann Merryman led the team.
"It is really beneficial when a student who competes as a junior stays on as a senior to mentor the students who are new to the competition. Chelsea was that person this year and we thank her for her leadership," said Merryman.
"Being the mentor for the team taught me how valuable last year was. I had great mentors who led me in the right direction of how to mentor the team. Experience makes a big difference from one year to the next," Pacconi said. "Christina, Christine, and Morgan really challenged me to be the best I could be and to set the example of how each member should work toward the project. "

The Saint Mary's teams have also benefited from Merryman's commitment to lead a team. For nine years she has organized a team and coached them to compete. Merryman has led Saint Mary's teams to the "final six" for seven of the last eight years. In 2007, Saint Mary's placed third and in 2010 and 2011 the College's team placed first.
"Each year I am amazed at how the students can go from knowing virtually nothing about a technical topic to giving a professional presentation on the topic in less than a month's time. I couldn't be more proud," said Merryman.
It is the 13th time the INCPAS has held the competition, with the case topic changing each year. This year's case study required the Indiana college teams to compile a package supporting or rejecting the acquisition of one company by another. The teams were given very little information about either company and were instructed to draft and document any assumptive details necessary.
The Saint Mary's team chose to assume the following roles: Pacconi was Chief Financial Officer of the acquiring company (the fictitious Miller Hardwoods). Czajkowski was the Chief Operating Officer of the company. Boesler, an independent CPA, and Mlinac, legal counsel, were hired by Miller to assist in the due diligence process. The team was considering whether or not to acquire the fictitious Chuck Manufacturing.
"Our team submitted a paper of 35 written pages and 30 pages of appendices," said Merryman. "Just the number of pages they produced gives you an idea of the tremendous amount of work our students put into the competition."
The INCPAS Case Study Competition was created in 2000 as a program with the dual benefit of having a positive impact on students entering the CPA profession and helping Indiana CPAs with their firm's or company's recruiting efforts.
About Saint Mary's College: Saint Mary's College, Notre Dame, Ind., is a four-year, Catholic, women's institution offering five bachelor's degrees and more than 30 major areas of study. Saint Mary's College has six nationally accredited academic programs: social work, art, music, teacher education, chemistry and nursing. Saint Mary's College ranks among the top 100 "Best National Liberal Arts Colleges" for 2013 published by U.S. News. Founded in 1844, Saint Mary's is a pioneer in the education of women, and is sponsored by the Sisters of the Holy Cross.