International Education/Modern Languages Week Plans Announced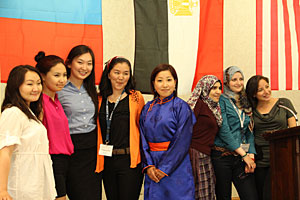 Participants of an international women's leadership program
at Saint Mary's in 2012 gather in front of the flags of their
countries. Funded by a grant from the U.S. Department of
State, the program hosted students from five countries. The
program is one of the topics to be covered at International
Education Week events at the College the week of Nov. 18.Contact:
Gwen O'Brien
Director of Media Relations
Saint Mary's College
(574) 284-4579
November 13, 2013 (Notre Dame, Ind.)—The Center for Women's Intercultural Leadership (CWIL) and the Department of Modern Languages at Saint Mary's College will host International Education/Modern Languages Week starting on Monday, November 18. The public is invited to attend the events. Click for a campus map.
Alice Yang, assistant director for global education in CWIL, is one of the organizers of the week. "While up to half of our students study abroad by the time they graduate, it is important to enhance the students' global learning with educational opportunities on campus. International education like that offered during this week will improve students' intercultural understanding, enabling them to be more successful in the globally competitive society while making contributions to world peace."
Marianne Hahn, senior lecturer of German and French, echoed Yang's sentiments.
"The purpose of this week-long annual celebration is to focus on and raise an awareness about the great importance of foreign languages and cultures in an increasingly interconnected world. It is a central part of our mission at Saint Mary's to give each student a broad and well-rounded education," she said.
Hahn is the organizer of the program "Arts around the World" which will take place at 7:30 p.m. on Tuesday, Nov. 19 in Little Theatre, Moreau Hall. The showcase will celebrate the languages and cultures of the countries represented in the modern languages department and will feature students singing, playing instruments, and dancing. A reception with samples of international food will follow the performance.  
"This particular event began several years ago when I organized a recital that featured students from my German class. It developed into a program in which all languages taught by the Department of Modern Languages are highlighted through the arts," Hahn said.
International Education Week is celebrated at colleges and universities across the nation. It is a joint initiative of the U.S. Departments of State and Education and promotes programs that prepare Americans for a global environment and attract future leaders from abroad to study, learn, and exchange experiences in the United States. Saint Mary's College has combined IEW with Modern Languages Week for several years.
About Saint Mary's College: Saint Mary's College, Notre Dame, Ind., is a four-year, Catholic residential, women's liberal arts college offering five bachelor's degrees and more than 30 major areas of study, such as business, nursing, art, chemistry, and social work. The College's single-gender environment has been proven, in study after study, to foster confidence, ethical leadership, and strong academic success. Saint Mary's College ranks 76 among the 248 "Best National Liberal Arts Colleges" for 2014 published by U.S. News and World Report. Founded in 1844 by the Sisters of the Holy Cross, Saint Mary's College's mission is to educate women and prepare them for postgraduate success whether it's a first job, graduate school, or postgraduate service.