Icons on Display at Library for All Saints Month and Advent
--Exhibit at the Cushwa-Leighton Library, October 31–December 22--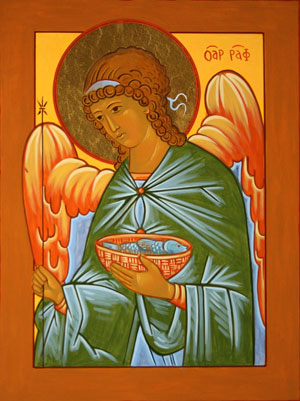 Contact:
Gwen O'Brien
Director of Media Relations
Saint Mary's College
(574) 284-4579
October 27, 2011 (Notre Dame, Ind.)—In recognition of November as All Saints Month and the beginning of the season of Advent, which begins November 27, the Cushwa-Leighton Library at Saint Mary's College will exhibit icons by artist Janet L. Johnson of Mishawaka. The exhibit features portraits of Christ and the saints painted in traditional icon style, along with drawings of the Madonna and Child (the Virgin Mary and Jesus). Johnson's work will be on exhibit from October 31 through December 22 and may be visited during regular library hours. An opening reception with the artist will be held at the library on Thursday, November 3 from 5:30 to 7:30 p.m., with a gallery talk at 6:15 p.m. Download a campus map.
Johnson recently retired after more than 30 years as graphics and design teacher at the Elkhart Area Career Center where she was recognized as Teacher of the Year (1990-91) and mentored 27 award-winning students in the National Skills/USA design competition, including two gold medalists.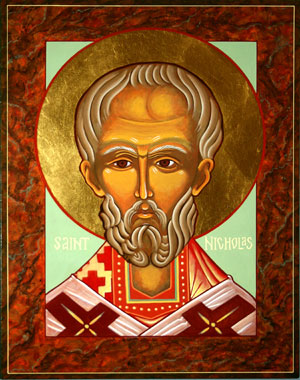 Her own art is infused with a deep spirituality, and she has studied the rich tradition of icon painting in Orthodox Christianity. In her artist's statement, she says, "Everything is a discipline; spending time with these images assists me in my spiritual journey. Whether it is Mother and Child, Jesus, or a saint, I have much to learn from them. With every brush stroke I am able to focus with a special intention for someone, a small prayer or mantra, or a kind of divine obedience to be quiet in the presence of the image on which I am working. . . . By looking into the face of an icon, a relationship may develop and will assist others on their spiritual journey."
About Saint Mary's College: Saint Mary's College, Notre Dame, Ind., is a four-year, Catholic, women's institution offering five bachelor's degrees and more than 30 major areas of study. Saint Mary's College has six nationally accredited academic programs: social work, art, music, teacher education, chemistry and nursing. Saint Mary's College ranks among the top 100 "Best National Liberal Arts Colleges" for 2012 published by U.S.News and World Report. Founded in 1844, Saint Mary's is a pioneer in the education of women, and is sponsored by the Sisters of the Holy Cross.