Jennifer Mathile Prikkel '95 Receives Honorary Doctorate at Commencement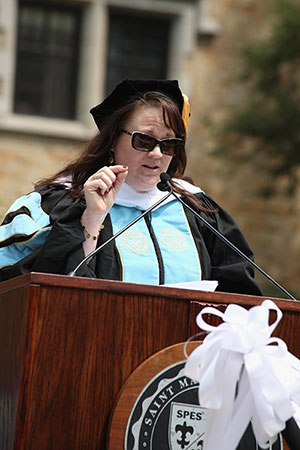 Jennifer Mathile Prikkel '95 addresses the
Class of 2013 after receiving her Honorary
Doctorate.Contact:
Gwen O'Brien
Director of Media Relations
Saint Mary's College
Notre Dame, Ind.
(574) 284-4579
May 20, 2013 (Notre Dame, Ind.)—Saint Mary's College held its 166th Commencement at noon on Saturday, May 18 on Le Mans Green. Receiving an honorary doctor of humanities degree at Commencement was alumna Jennifer Mathile Prikkel '95. Prikkel is a philanthropist, mentor, advocate, and entrepreneur from Dayton, Ohio whose list of priorities includes women's access to quality education and fulfilling employment. She is a former member of the Saint Mary's College Board of Trustees.
Prikkel told students in her address, "Saint Mary's women are multi-faceted. That's what makes us great doctors, lawyers, teachers, nurses, mothers or whatever title we choose to take on in our lives. The world needs each and every one of you." (Click to download Prikkel's speech given at Commencement.)
Prikkel has spent more than a decade empowering women to maximize their full potential in life. She strongly believes that regardless of one's background or social and economic status, everyone has the responsibility to become servant leaders within and beyond their circles of influence.
She served on the Saint Mary's College Board of Trustees from 2002 to 2011. In 2003, she founded the Spes Unica Award for women attending Saint Mary's and more than a dozen lives have been forever changed by her generosity. She and her parents MaryAnn and Clayton Mathile are significant benefactors to the College, supporting the campaign to build the Spes Unica Hall academic building and to renovate Science Hall as part of the Faith Always, Action Now campaign.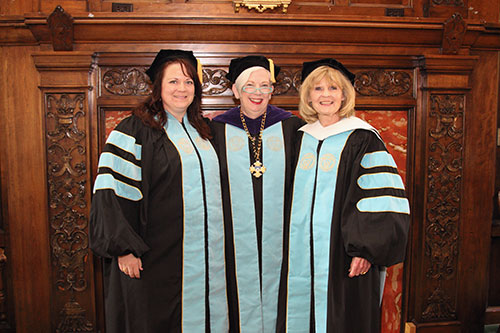 2013 Honorary Doctorate Recipient Jennifer Mathile Prikkel '95,
left, is pictured with President Carol Ann Mooney, center, and
Prikkel's mother MaryAnne Mathile, a 2006 Honorary
Doctorate recipient.Prikkel also supports a variety of Catholic education initiatives in her hometown of Dayton. In addition, she is a partner of the Mathile Family Enterprise and serves on the Board of Trustees for the Mathile Family Foundation, which was established to transform lives of children and families in need. She is also founder and president of Bridging Hope Farms in Dayton, Ohio. The farm breeds and trains horses for professional riders and offers development courses for aspiring equestrians.  
MaryAnn Mathile received an honorary doctor of humanities degree from the College in 2006. Saint Mary's recognized her for her contributions to strengthening families, communities and education through her work with The Mathile Family Foundation and for her unwavering commitment to Catholic education demonstrated through her generosity towards Saint Mary's College.
Prikkel offered these parting words to the graduates, "Remember that Saint Mary's is not just the College you attended. Saint Mary's is your home where a piece of yourself will reside for all eternity. Saint Mary's is a mother and her arms are always open to welcome us home. She longs for your next return."
About Saint Mary's College: Saint Mary's College, Notre Dame, Ind., is a four-year, Catholic, residential, women's liberal arts college offering five bachelor's degrees and more than 30 major areas of study, such as business, nursing, art, chemistry, and social work. The College's single-gender environment has been proven, in study after study, to foster confidence, ethical leadership, and strong academic success. Saint Mary's College ranks among the top 100 "Best National Liberal Arts Colleges" for 2013 published by U.S. News. Founded in 1844 by the Sisters of the Holy Cross, Saint Mary's College's mission is to educate women and prepare them for postgraduate success whether it's a first job, graduate school, or postgraduate service.