Kyle Zimmer, CEO of First Book, Addresses Saint Mary's College Graduates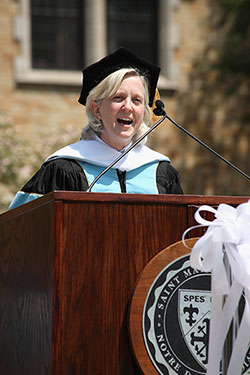 Kyle Zimmer, president and CEO of First Book,
addresses the Class of 2013 on Saturday.Contact:
Gwen O'Brien
Director of Media Relations
Saint Mary's College
Notre Dame, Ind.
(574) 284-4579
May 20, 2013 (Notre Dame, Ind.)—Saint Mary's College was proud to have had social entrepreneur Kyle Zimmer, president and CEO of First Book, as the 2013 Commencement Speaker at its 166th Commencement held on Saturday, May 18. Zimmer received an honorary doctor of humanities degree from the College at the ceremony. She addressed the Class of 2013, made up of 374 women from 33 states and one other country (Korea), with advice as they embark on their life's work.
"Our world needs you desperately. There are incomprehensible issues confronting our country and our planet. The world does not need more swagger. It needs community builders.  People with the strength of empathy and the action it demands. Go change the world," Zimmer told the graduates. (Click to download Zimmer's Commencement Address.)
Zimmer shared her story of being force for change. She left behind a successful career as a lawyer to start First Book, a nonprofit social enterprise that provides new books to children in need. She was compelled to create the organization when, as a mentor to a child at a local shelter, she became aware of how some children had limited access to books. Under her leadership, First Book has distributed more than 100 million books to children in thousands of communities in the U.S. and Canada, through breakthroughs such as First Book National Book Bank and The First Book Marketplace.
She told the graduates not everyone supported her when she set out to launch her efforts. "I distinctly remember one person telling me that it was, and I am quoting here, 'a ridiculous waste of time.' Now here is where I made a mistake:  I believed them, and I delayed building the National Book Bank. But we re-grouped, and we kept coming back to the same conclusion:  This could work.  And it did work.  The First Book National Book Bank is the central vehicle for charitable gifts from the US publishing industry." 
Zimmer shared with graduates five secrets of being an adult:
1.)   Adults are really not certain of anything.
2.)   You are going to fail. (It's impossible to succeed without failing.)
3.)   Grit trumps IQ.
4.)   Community is everything. Build it and be a part of it.
5.)   The most powerful force in the world is empathy.
"Empathy is powerful because it demands action. This world is a needy place and we cannot afford the luxury of inaction. The new pope chose the name 'Francis' after St. Francis of Assisi. Now there is a guy who advocated action. One of his (St. Francis') quotes captures this philosophy:  'Preach the Gospel always and if necessary, use words.'"
Zimmer's commitment to innovation and integration across sectors has earned her a reputation as a social sector leader. She currently serves as a member of the Board of Directors for Ashoka, which works to ensure that social entrepreneurs and their innovations continue to inspire a new generation of local change-makers to create positive social change. She also serves on the Youth Venture Board of Directors, and as a member of the board for James Patterson's ReadKiddoRead.
About Saint Mary's College: Saint Mary's College, Notre Dame, Ind., is a four-year, Catholic, residential, women's liberal arts college offering five bachelor's degrees and more than 30 major areas of study, such as business, nursing, art, chemistry, and social work. The College's single-gender environment has been proven, in study after study, to foster confidence, ethical leadership, and strong academic success.  Saint Mary's College ranks among the top 100 "Best National Liberal Arts Colleges" for 2013 published by U.S. News. Founded in 1844 by the Sisters of the Holy Cross, Saint Mary's College's mission is to educate women and prepare them for postgraduate success whether it's a first job, graduate school, or postgraduate service.