Second Student Appointed to National Advisory Council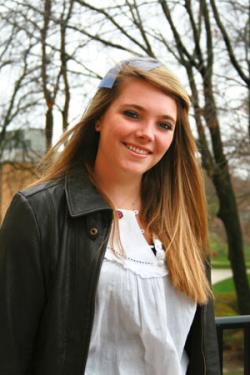 Laura Corrigan '13
Contact:
Gwen O'Brien
Director of Media Relations
Saint Mary's College
Notre Dame, Ind.
(574) 284-4579
November 21, 2011 (Notre Dame, Ind.)—Saint Mary's College is pleased to announce that the American Association of University Women (AAUW) has selected Laura Corrigan '13 of New York City to sit on its national Student Advisory Council (SAC). She is one of ten women appointed to the council from colleges and universities across the country and the second Saint Mary's College student in as many years to be selected. The AAUW cited Corrigan's outstanding leadership skills and passion for women's rights as reasons for her selection.
"I was so excited when I found out that I was chosen, but I was also a bit astounded because it's a really competitive program." Corrigan said. "I didn't want to get my hopes up that I would be selected."
As a new member of the council, Corrigan recently attended a weekend retreat in Washington, D.C. In May, Corrigan will attend a national conference with fellow Saint Mary's student Catherine "Cat" Cleary '12, who was appointed to the council last fall.
"I owe it to Cat for pushing me to apply," Corrigan said. "Now, we're working together on applying for a Campus Action Projects grant through the AAUW. Our proposed project is called 'Use Your Voice' and would educate South Bend public high school students about issues of sexual harassment, how to recognize it, and how to report it."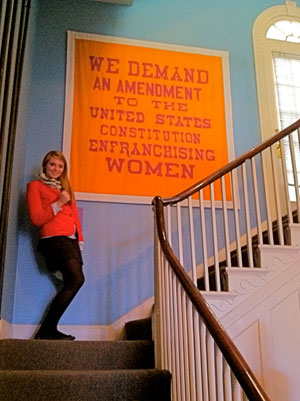 Laura poses at the Sewall-Belmont House in
Washington, D.C., home of the National
Women's Party.
As a member of the council, Corrigan will participate in monthly conference calls with the AAUW, contribute to projects, perform research and will eventually implement an event on the Saint Mary's campus sponsored by AAUW.
Corrigan is an English writing and self-designed women's studies double major with a minor in intercultural studies. She is a resident advisor (RA), a member of the Resident Hall Association, and a study abroad peer advisor. Corrigan also teaches a class once a week at the Center for the Homeless in South Bend, Ind.
She hopes to attend graduate school in Europe and study international development with a concentration in writing. Corrigan also plans on interning in London next summer, perhaps for the U.S. Department of State or at the British Broadcasting Corporation (BBC). Ultimately, she would love to work for the United Nations.
"I'm very grateful for this opportunity," Corrigan said of the SAC appointment. "Everything is a learning experience and I'm ready for it."
About Saint Mary's College: Saint Mary's College, Notre Dame, Ind., is a four-year, Catholic, women's institution offering five bachelor's degrees and more than 30 major areas of study. Saint Mary's College has six nationally accredited academic programs: social work, art, music, teacher education, chemistry and nursing. Saint Mary's College ranks among the top 100 "Best National Liberal Arts Colleges" for 2012 published by U.S.News and World Report. Founded in 1844, Saint Mary's is a pioneer in the education of women, and is sponsored by the Sisters of the Holy Cross.