"Love Your Body Week" Focuses on Positive Female Body Image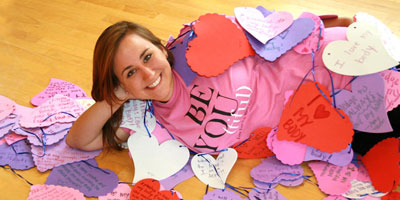 Laura Glaub '12, creator of "Love Your Body Week" poses
in a "Be You(tiful)" t-shirt.Contact:
Gwen O'Brien 
Director of Media Relations
Saint Mary's College
Notre Dame, IN 46556
(574) 284-4579
February 9, 2012 (Notre Dame, Ind.)—Saint Mary's College students will mark National Eating Disorder Week with "Love Your Body Week," February 20-24. This year's theme is "everyBODY is…," a phrase which can be completed using any individual's definition of beauty. The goal of the week, held at this women's college, is for women to learn to love their bodies and eliminate negative stereotypes, especially those that come from the media. The events listed here take place on the Saint Mary's College campus and are free and open to the public. Click for a campus map.
Laura Glaub '12 developed the concept of "Love Your Body Week" last academic year. This is the second year of the event. "I want my peers to examine cultural expectations through media, peers, family members, and more and talk about the definition of beauty by realizing their own life experiences and create their own definition of beauty," Glaub explained. Brianne Suckow '12, Mallory Welsh '14, Courtney Dahms '12, and Kari Keller '13 are assisting with this year's event.
"Love Your Body Week" is sponsored by Student Government Association (SGA), the Residence Hall Association, Student Activities Board, the student club Feminists United, and the University of Notre Dame's Student Government Association. This is the first year "Love Your Body Week" will also be celebrated at Notre Dame. Both schools are using the same campaign with the same t-shirts, button, and signs.
"My goal for 'Love Your Body' week, personally, would be to make sure each of my peers feel loved, worthwhile, original, special, and unique. I have the chance to interact with such special women each day and they inspire me with new ways to love life and love me. I want every Saint Mary's and Notre Dame peer and beyond to realize how important they are to this world," Glaub said.
Here is a summary of events.
Monday, Feb. 20

"Down the Rabbit Hole"
Speaker: Christina Grasso '11, Saint Mary's College alumna
Description: How did a talented, funny, and smart young woman tumble down the rabbit hole of anorexia? After several years of treatment, one lengthy hospitalization, and the loss of much more than just weight, Grasso found her way out again and now sustains a meaningful recovery on her own terms. She is currently an intern in the fashion industry in New York City.
Time: 7 p.m.
Location: Student Center Lounge
Tuesday, Feb. 21
"Where Do You Draw the Line?"
Panelists: Catherine Pittman, associate professor of psychology, Saint Mary's College; Stacy Davis, associate professor of religious studies, Saint Mary's College; Valerie Staples, licensed clinical social worker and coordinator of eating disorder services, University Counseling Center, University of Notre Dame; and Maureen Barrett '12
Description: Panelists will examine cultural influences and expectations in a college society relating to body image dissatisfaction, spirituality, and alcohol use/abuse.
Time: 7 p.m.
Location: Carroll Auditorium, Madeleva Hall
Wednesday, Feb. 22
"Globalization and Beauty: The Prevalence of Whiteness Creams, Size 0, and Cosmetic Surgery"
Speaker: Sonalini Sapra, assistant professor of political science and women's studies, Saint Mary's College
Description: This educational workshop examines the extent to which globalization has influenced beauty ideals around the world. It will also analyze the growing rise of cosmetic interventions in the United States and abroad.
Time: 12 p.m.
Location: Conference rooms A and B, ground level of the Student Center
"Intimacy, Friendship, and Faith"
Speaker: Judy Fean and Regina Wilson, Campus Ministry, Saint Mary's College
Description: Come explore together what intimacy, friendship and relationships mean in the context of the spiritual life. Do Christians only have a negative view of sexuality, intimacy and friendship? How do spirituality and sexuality relate to one another?
Time: 5 p.m.
Location: Conference room F, ground level of the Student Center
Thursday, Feb. 23
"Barbie?! Love her, hate her, who cares?!"
Speaker: Presented by Terri L. Russ, assistant professor of communication studies, Saint Mary's College
Description: Professor Russ will break down the normal associations society makes with being beautiful relating to the popular doll Barbie. Russ is also author of "Bitchin' Bodies," a book of recorded dialogues of young women talking about dissatisfaction with their bodies.
Time: 5 p.m.
Location: Conference room F, ground level of the Student Center
Description: TRUE BEAUTY, presented by the cast of the TV show "The Glee Project," is a show based on acceptance. TRUE BEAUTY addresses the importance of self worth and self esteem.
Time: 7:30 p.m.
Location: Carroll Auditorium, Madeleva Hall
About Saint Mary's College: Saint Mary's College, Notre Dame, Ind., is a four-year, Catholic, women's institution offering five bachelor's degrees and more than 30 major areas of study. Saint Mary's College has six nationally accredited academic programs: social work, art, music, teacher education, chemistry and nursing. Saint Mary's College ranks among the top 100 "Best National Liberal Arts Colleges" for 2012 published by U.S.News and World Report. Founded in 1844, Saint Mary's is a pioneer in the education of women, and is sponsored by the Sisters of the Holy Cross.