Graduate Recognized with Lumen Christi Award, Highest Student Honor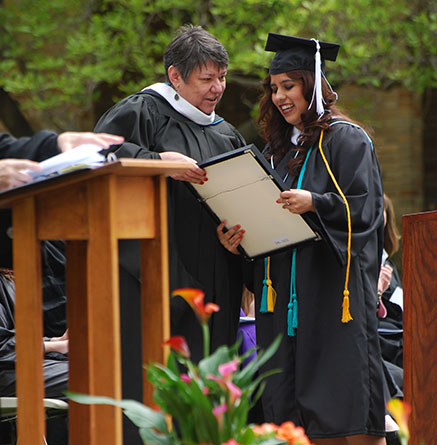 Galicia Guerrero '14 receives the Lumen Christi
Award from Vice President for Student Affairs
Karen Johnson.Contact:
Gwen O'Brien
Director of Media Relations
Saint Mary's College
(574) 284-4579
May 22, 2014 (Notre Dame, Ind.)—Galicia Guerrero '14 of Jenison, Michigan was honored with the Lumen Christi Award at Saint Mary's Commencement on Saturday, May 17. The Lumen Christi is the highest student honor at Saint Mary's College. It is awarded to the senior who stands out as an outstanding Christian woman. The recipient is traditionally someone who has excelled in leadership and loyalty to Saint Mary's and whose presence has had a profound effect on the College community. The name of the recipient is not revealed until her name is read at Commencement. Guerrero said it was surreal to hear her name announced as the award recipient.
"Honestly, I was stunned to find that I was recognized in this way," Guerrero said, noting that the College had a profound effect on her as well. She said that the often-quoted Sister M. Madeleva Wolff, CSC, president of the College from 1934 to 1961 inspired her, as did her fellow Belles (students) and others.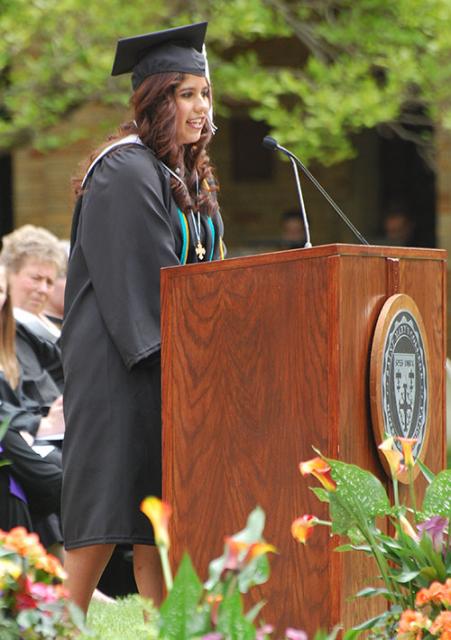 Galicia Guerrero '14, addresses the Class of 2014 after
receiving the Lumen Christi Award."So many Belles,
faculty, and staff were lights of Christ to me. Also, Sister Madeleva's timeless message that the College promises students discovery of self, the universe, and our place in it is inspirational. All of these experiences fueled my passion for Saint Mary's," she said.
Guerrero majored in social work with concentrations in justice education and Spanish. This fall she will begin the Master of Social Work program at the Brown School of Social Work at Washington University in St. Louis.
One of those who nominated Guerrero for the award wrote, "As a Catholic, Galicia is called to help others. She lives out this calling by respecting others, offering a compassionate ear, and lending help in any way that she can." Guerrero was deeply involved with Campus Ministry. She provided valuable input as a peer minister, willingly reaching out to other students to offer encouragement and support for their own faith journeys. Those who know her best say she is deeply committed to the well-being of students and the value of being a community of faith.
Guerrero served as a resident assistant (RA) for three years. One of her unique methods to bring people together was to serve them one of her famous homemade cupcakes. She understands that gathering around something as simple and festive as a cupcake can brighten an otherwise stressful day.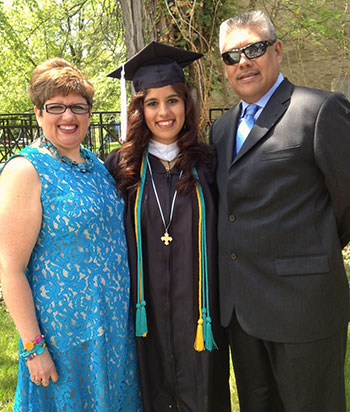 Lumen Christi Award recipient Galicia Guerrero '14
poses with her parents Gelsy and Gonzalo Guerrero.Guerrero was a member of the Student Advisory Committee for the Belles Against Violence Office, an office which addresses violence against women, like intimate partner abuse, sexual assault, and stalking. She is known for welcoming challenges and gracefully accepting tasks, according to the citation. In her work with BAVO, Guerrero co-chaired the Events and Campaigns Programming Committee. She facilitated workshops, oversaw program planning, and mentored others. Another nominator said, "One of her most valued characteristics is her ability to work behind the scenes, empowering others to develop skills and generate change."
Guerrero also recently received the Department of Social Work's Academic Excellence Award and the Sister Maria Concepta McDermott, CSC, Award for Service in Education through Saint Mary's Office for Civic and Social Engagement. 
About Saint Mary's College: Saint Mary's College, Notre Dame, Ind., is a four-year, Catholic, residential, women's liberal arts college offering five bachelor's degrees and more than 30 major areas of study, such as business, nursing, art, chemistry, and social work. The College's single-gender environment has been proven, in study after study, to foster confidence, ethical leadership, and strong academic success. Saint Mary's College ranks 76 among the 248 "Best National Liberal Arts Colleges" for 2014 published by U.S. News and World Report. Founded in 1844 by the Sisters of the Holy Cross, Saint Mary's College's mission is to educate women and prepare them for postgraduate success whether it's a first job, graduate school, or postgraduate service.