Madrigal Dinners, a Christmas Tradition, Celebrates 40th Year with Fresh Elements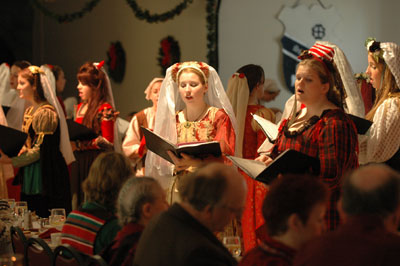 Madrigal Dinners performanceContact:
Gwen O'Brien
Director of Media Relations
Saint Mary's College
(574) 284-4579
October 23, 2012 (Notre Dame, Ind.)—The Saint Mary's College Department of Music is proud to present its 40th annual Madrigal Dinners, a Renaissance-style holiday banquet and performance celebration. The merry feast includes entertainment provided by colorfully attired singers, instrumentalists, jugglers, a jester, and a lord of the manor. Performances will be held in the North Lounge of Regina Hall on November 30 through December 2. Ticket information is available at moreaucenter.com or by calling the box office (574) 284-4626.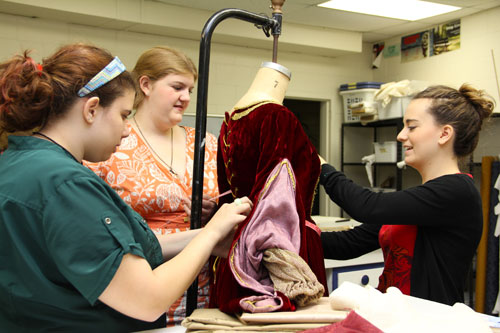 Students work on details of a Madrigal Dinners costume.To commemorate the anniversary, this year's Madrigal Dinners will revive former program elements and introduce many fresh ones.
Dancers are once again part of the show, after a 20-year absence. Dance faculty member Laurie Lowry created the new choreography based on notated steps (Labanotation) and dances from the period.


Students in the costume shop are hard at work cutting patterns and sewing elaborate period costumes for the dancers.


Student and faculty actors are going over the lines of the new script, written by theatre faculty member Susan Baxter.


On Monday evening, October 29, the Madrigal Singers, made up of members of the Saint Mary's College Women's Choir, will rehearse three new songs with composer Paul Carey.


Theatre students studying set design are busy creating a new set, which will further transform the residence hall lounge into a medieval castle. It's the culmination of two semesters of work in theatre faculty member Michaela Duffy's course.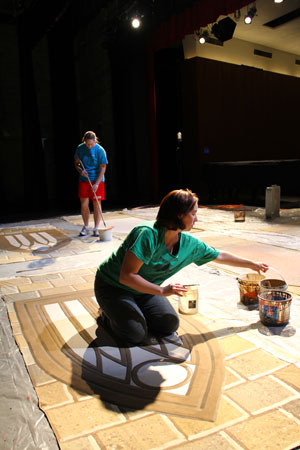 Michaela Duffy, a theatre faculy member,
and a student work on elements of the
brand new set. "The new set expands the backdrop that has traditionally surrounded the performers to now cover the entire room," Duffy explained. "We are also adding more lighting sources, including a fireplace, which was a design feature all the students were excited about."
Melissa Bialko, professional specialist in costume design, is leading the costume project. "We do research for every project, but to varying degrees, as sometimes we're already very familiar with a historical era. For the Madrigals, I did some period research from books and the Internet, first researching court dance of the time. Then, I started to look at some images of what people would have worn. For the Madrigals, we are accurate in silhouettes from about a span of 300 years, but the intent is to be more festive and create a cohesive holiday look."
Together these new additions will provide an exciting look to the Madrigal Dinners, yet preserve the spirit and tradition of the holiday celebration. Nancy Menk, professor of music, director of choral activities, and the Mary Lou Judd Leighton Chair in Music, has conducted the Madrigals for 29 years.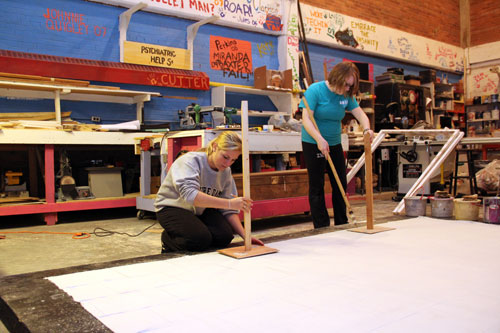 Students work on part of the new Madrigal Dinners set."The atmosphere at the Madrigal Dinners is always so festive that it's easy to see why so many continue to make this a part of their annual holiday celebrations. At every performance, when I step into the hall and see the beautiful candlelit setting and the looks of anticipation on our patrons' faces, I feel really proud of what we have offered to our community for 40 years," Menk said.
Accompanying the entertainment is a holiday feast prepared by Dining Services (Sodexo). The meal includes prime rib (Cornish hen for the matinee), roasted potatoes, glazed carrots, Waldorf salad, wassail, and cheesecake with flaming cherries. Children and vegetarian menus are available upon request.

About Saint Mary's College: Saint Mary's College, Notre Dame, Ind., is a four-year, Catholic, women's institution offering five bachelor's degrees and more than 30 major areas of study. Saint Mary's College has six nationally accredited academic programs: social work, art, music, teacher education, chemistry and nursing. Saint Mary's College ranks among the top 100 "Best National Liberal Arts Colleges" for 2013 published by U.S. News. Founded in 1844, Saint Mary's is a pioneer in the education of women, and is sponsored by the Sisters of the Holy Cross.