Outstanding Senior Honored at Alumnae-Senior Champagne Brunch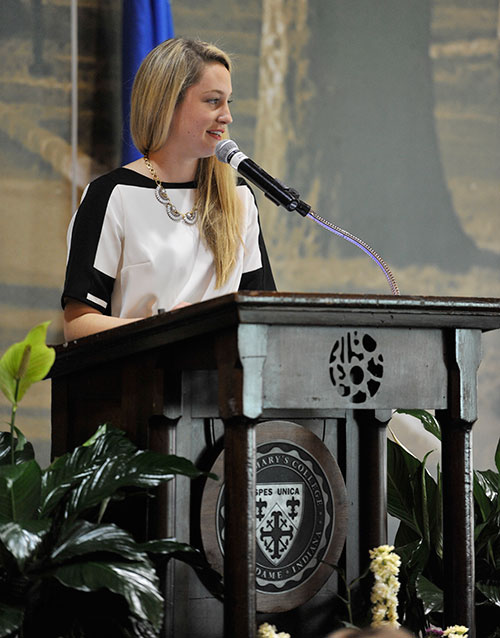 Malea Schulte is the Outstanding Senior of
the Class of 2014.Contact:
Gwen O'Brien
Director of Media Relations
Saint Mary's College
(574) 284-4579
May 12, 2014 (Notre Dame, Ind.)—Saint Mary's College is proud to announce the recipient of this year's Outstanding Senior Award is Malea Schulte, a studio art major with a math minor. After graduating, Schulte plans to co-lead a women's delegation to Rwanda in recognition of the 20th anniversary of the genocide there. In the fall she will attend the Maryland Institute College of Art to begin a Master of Fine Arts (MFA) in Community Arts. The native of Norway, Iowa was honored with the award today at the Alumnae-Senior Champagne Brunch.
Every year the Saint Mary's College Alumnae Association Board of Directors presents the Outstanding Senior Award to a member of the senior class who exemplifies the spirit and values of the College. The board chooses the recipient from nominees submitted by students, faculty, and staff. Tradition dictates that the recipient be someone who carries out the beliefs of her faith in daily living and is distinguished by scholarship, leadership, and outstanding dedication to Saint Mary's—as demonstrated through participation in both curricular and extracurricular activities. As the valedictorian represents the mind, and the Lumen Christi Award recipient reflects the soul, the Outstanding Senior embodies the heart of the graduating class at Saint Mary's.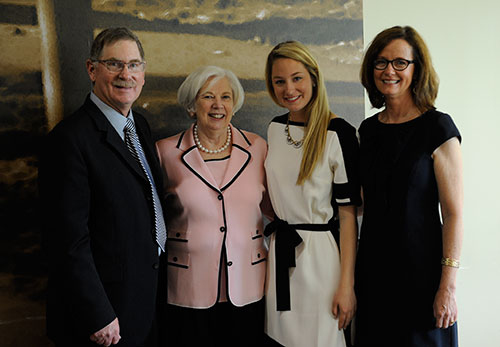 Malea Schulte '14, center right, poses with her parents, Kevin
and Kelynn Schulte, and Saint Mary's College President Carol Ann
Mooney, in pink.At the brunch, Schulte offered these words to her class: "If I had to choose one word to describe how I feel standing here it would be gratitude. I could go on to try to articulate the many reasons for which I am grateful to Saint Mary's, the many ways in which I've grown, but I realize that I would be preaching to the choir. The truth is, we have all received a gift –many gifts –over the past four years. And the beauty of it is, while we have hundreds of shared experiences, each of us holds a completely unique story of 'how' we acquired that for which we are so grateful – our stories of discovery. What is it about Saint Mary's that fosters discovery – discovery of self, and the world, and our place in it? One important piece is our strong community."

Schulte is a leader and according to her award citation, creativity is central to her leadership style. She served as the student trustee on the Saint Mary's College Board of Trustees and as an administrative residence advisor in Holy Cross Hall. She served as a student committee member and Spirituality Task Force member on the Alumnae Board of Directors and in student government as her class vice president, a member of the Sophomore Class Board, and chair of the Community Committee. In these leadership positions Schulte established a campus-wide Christmas charity that brought in over 100 donated gifts for local families. She started Acoustic Night, a performance opportunity for Saint Mary's and Notre Dame student musicians, and organized other events.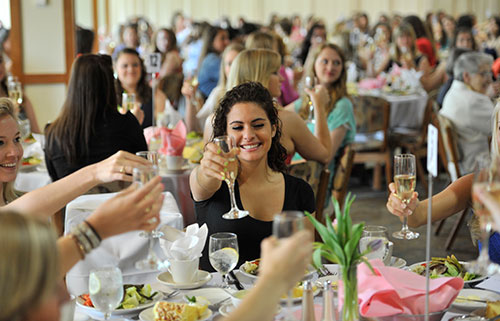 Seniors offer a toast to their Saint Mary's years at the Alumnae-Senior
Campagne Brunch.Schulte studied abroad in Rome and participated in a student trip to China. She was part of the Intercultural Leadership program and participated in the Women's Choir and Bellacappella, the College's a cappella group. She joined the Friends With Sisters program with the Sisters of the Holy Cross in her sophomore year, and she served in various Campus Ministry roles, including as lector, lay presider, and cantor.
She wasn't idle when she was away from campus, working for the communities of Norway (Iowa), Cedar Rapids, Nashville, and Kansas City. Notably, she worked at the Iowa Baseball Museum of Norway, as a counselor at the Catholic Heart Workcamp, and on the Mayor's Task Force for the Arts in Kansas City.
Recognition for Schulte's accomplishments includes the Saint Mary's College Presidential Scholarship, the Prudential Spirit of Community Award, the Herbert Hoover Uncommon Student Award sponsored by the Hoover Presidential Library, and making the Dean's List.

At the end of her speech, Schulte quoted C.S. Lewis, the author and friend of legendary Saint Mary's College President Sister Madeleva Wolff, CSC. "'Nothing you have not given away will ever really be yours.' This is true of our college experience. So the question now is, how will we give it away?"
About Saint Mary's College: Saint Mary's College, Notre Dame, Ind., is a four-year, Catholic, residential, women's liberal arts college offering five bachelor's degrees and more than 30 major areas of study, such as business, nursing, art, chemistry, and social work. The College's single-gender environment has been proven, in study after study, to foster confidence, ethical leadership, and strong academic success. Saint Mary's College ranks 76 among the 248 "Best National Liberal Arts Colleges" for 2014 published by U.S. News and World Report. Founded in 1844 by the Sisters of the Holy Cross, Saint Mary's College's mission is to educate women and prepare them for postgraduate success whether it's a first job, graduate school, or postgraduate service.