Political Science Professor Honored with Maria Pieta Award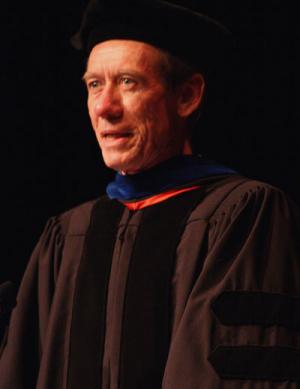 Contact:
Gwen O'Brien
Director of Media Relations
Saint Mary's College
(574) 284-4579
May 9, 2011 (Notre Dame, Ind.)—The Maria Pieta Award was established in 1976 in honor of Sister Maria Pieta, CSC, who was a teacher and an administrator at Saint Mary's College. The award recognizes the quality of teaching done in courses for freshmen and sophomores. The recipient of this year's award is Professor Patrick Pierce, Chair of the Department of Political Science.
According to his award citation, Pierce is recognized for his consistent commitment to and excellence in teaching young women. These qualities are evident whether he's working with students in or out of the classroom. He not only demands the best from his students, he also goes out of his way to help them meet that demand. A student wrote in her nomination that he once made her re-do a paper: "Instead of giving me the poor grade I undoubtedly deserved, he wanted to make [sure] I truly understood the material. He was not going to let me fail." His students appreciate this dedication, with one calling his teaching "the most valuable to my growth as an independent and analytical thinker."
Pierce's strong relationship with Saint Mary's students continues well after graduation. He stays in contact with alumnae from his department, often helping current students make connections with them. Each year, he arranges for three alumnae to return to campus to talk with current students in the major, both about how the major has played a role in their careers and about the transition from college to career.
Good teaching requires commitment and perseverance, and this faculty member exemplifies those qualities, the citation states. An avid runner, his love of sports includes a love of basketball, and he has long served as the academic advisor for the Saint Mary's basketball program. A former player notes: "He has given academic advice to many members of our team and has articulated to the team how academic life and athletic life correlate. He has made us all better students on the court and in the classroom."
Whether on the sideline of the basketball court, in the office, or in the classroom, Pierce's teaching is characterized by a passion that students find infectious. As one student put it: "The main focus of his teachings … is strengthening an understanding of democracy and increasing our passion for political participation, regardless of political affiliation."
Professor Pierce received the Maria Pieta Award at Honors Convocation on Sunday, May 8. Students, faculty and staff nominate candidates for this award and the Academic Affairs Council makes the final selection. The name of the recipient is not revealed until the Convocation.
About Saint Mary's College: Saint Mary's College, Notre Dame, Ind., is a four-year, Catholic, women's institution offering five bachelor's degrees and more than 30 major areas of study. Saint Mary's College has six nationally accredited academic programs: social work, art, music, teacher education, chemistry and nursing. Saint Mary's College ranks among the top 100 "Best National Liberal Arts Colleges" in the U.S. News & World Report 2011 College Guide. Founded in 1844, Saint Mary's is a pioneer in the education of women, and is sponsored by the Sisters of the Holy Cross.