Humanistic Studies Professor Honored with Maria Pieta Award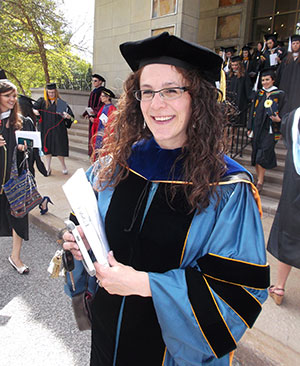 Laura Williamson Ambrose, assistant professor of
humanistic studies, is the 2013 recipient of the
Maria Pieta Award.Contact:
Gwen O'Brien
Director of Media Relations
Saint Mary's College
(574) 284-4579
May 7, 2013 (Notre Dame, Ind.)—Saint Mary's College President Carol Ann Mooney presented Laura Williamson Ambrose, assistant professor of humanistic studies, with the Maria Pieta Award at Honors Convocation on Sunday, May 5. The Maria Pieta Award was established in 1976 in honor of Sister Maria Pieta, CSC, who was a teacher and an administrator at Saint Mary's College. The award recognizes the quality of teaching in courses for freshmen and sophomores.
According to her award citation read by Provost and Senior Vice President for Academic Affairs Patricia Fleming, Ambrose has one foot in the past and one foot planted squarely in the present. While employing such modern tools as wikis, blogs, and e-Portfolios, Ambrose invites students to "unplug" in order to savor the old-fashioned pleasures of face-to-face communication. The result is lively intellectual conversation, as students grapple with an assortment of texts—literary, historical, and visual. "Such an amazing atmosphere," said one student in her nomination letter. "We share our ideas and grow together," said another. "The instructor poses brilliant prompting questions to the class," said a third.
The citation goes on to say that Philip Hicks, professor and chair of the Department of Humanistic Studies, uses the word "fearless" to describe Ambrose's pursuit of any new opportunity to engage with students. The citation states Ambrose was first in line to design a Critical Thinking Seminar, to be a First-Year Adviser, and to teach an on-line course. Spend a few minutes with her, the citation reads, and you will quickly discover her grand passions—career preparation for her students, digital technology, maps, and Renaissance literature.
Ambrose was surprised and honored to receive the recognition. "Being selected for an award such as this at a college like Saint Mary's, one positively brimming with extraordinarily dedicated teachers, is a particularly meaningful honor. There is a palpable spirit of innovation, intellectual excellence, and creativity on this campus, and I am grateful each day to be a part of this learning community. The words from the student letters rang especially true—and warmly—in reminding me of this fact," she said. 
Students, faculty and staff nominate candidates for the Maria Pieta Award and the Academic Affairs Council selects the honoree. The name of the recipient is not revealed until Honors Convocation.
Click for more on Laura Williamson Ambrose, assistant professor of humanistic studies.
About Saint Mary's College: Saint Mary's College, Notre Dame, Ind., is a four-year, Catholic, residential, women's liberal arts college offering five bachelor's degrees and more than 30 major areas of study, such as business, nursing, art, chemistry, and social work. The College's single-gender environment has been proven, in study after study, to foster confidence, ethical leadership, and strong academic success. Saint Mary's College ranks among the top 100 "Best National Liberal Arts Colleges" for 2013 published by U.S. News. Founded in 1844 by the Sisters of the Holy Cross, Saint Mary's College's mission is to educate women and prepare them for postgraduate success whether it's a first job, graduate school, or postgraduate service.