Martin Luther King Jr. Events Open to the Public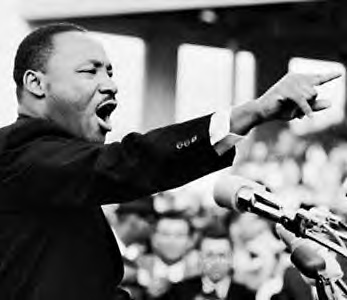 There will be three public events on campus that will
celebrate the legacy of Dr. Martin Luther King, Jr.Contact:
Gwen O'Brien
Director of Media Relations
Saint Mary's College
Notre Dame, Ind.
(574) 284-4579
January 15, 2013 (Notre Dame, Ind.)—Martin Luther King Jr. Day will be celebrated nationally on Monday, January 21 and Saint Mary's College will honor the Civil Rights Leader with events all week. Three events are free and open to the public, including a dinner. Student Involvement and Multicultural Services (SIMS) at Saint Mary's is sponsoring the events. Click for a campus map.
Events open to the public are:
Monday, January 21: First Generation College Student Panel Discussion. Martin Luther King was a pioneer who sought for all people to have opportunities for brighter futures. For some that means going to college and beyond. A panel of Saint Mary's College faculty and staff who were the first in their families to go to college will talk about being trailblazers in unfamiliar territory. This talk will be especially inspirational to current first generation college students who are on a journey that is exciting and scary at the same time. First generation students are at a higher risk of dropping out of college before completing their degree than the general student population. They tend to struggle silently with barriers ranging from concerns about finances or failure to family pressures to succeed. "There are more students on campus that have these experiences and it's vital to have examples in front of them to help them keep going," said Stephanie Steward-Bridges, director of SIMS. The panel of professionals will discuss how they got to where they are today, offer advice, and answer questions. Students from other colleges and universities are encouraged to attend. This talk will take place in the Student Center Lounge at 7 p.m.


Wednesday, January 23: The March to Mass. This annual event will begin in the Student Center at 8:30 p.m. and proceed to Holy Spirit Chapel in Le Mans Hall where Mass will begin at 9 p.m. The march will include singing in memory of King. Melvin R. Tardy Jr., deacon at St. Augustine Catholic Church in South Bend and a first year academic adviser at the University of Notre Dame, will join this year's march and deliver an evening message.


Friday, January 25: The MLK Commemorative Dinner. The dinner begins at 5:30 p.m. in the Student Center lounge. The theme for this year's event is Diversity Beneath the Skin. Speakers include Saint Mary's College President Carol Ann Mooney and student Elizabeth Elsbach '13 who will share her poetry. Those interested in attending the free dinner must RSVP by Tuesday, January 22 to stuact@saintmarys.edu. Dining Services (Sodexo) is co-sponsoring this event.
For more information on these events, you may contact Tamara Taylor, assistant director of SIMS by email at ttaylor@saintmarys.edu or (574) 284-4562.
About Saint Mary's College: Saint Mary's College, Notre Dame, Ind., is a four-year, Catholic, women's institution offering five bachelor's degrees and more than 30 major areas of study. Saint Mary's College has six nationally accredited academic programs: social work, art, music, teacher education, chemistry and nursing. Saint Mary's College ranks among the top 100 "Best National Liberal Arts Colleges" for 2013 published by U.S. News. Founded in 1844, Saint Mary's is a pioneer in the education of women, and is sponsored by the Sisters of the Holy Cross.