Martin Luther King Jr. to Be Honored with Week of Events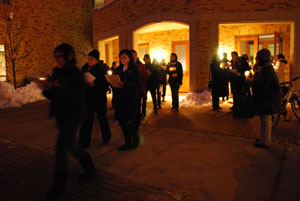 Photo from the 2011 MLK march on the Saint Mary's
College campus.
Contact:
Gwen O'Brien
Director of Media Relations
Saint Mary's College
Notre Dame, Ind.
(574) 284-4579
January 11, 2012 (Notre Dame, Ind.)—Martin Luther King Jr. Day is Monday, January 16 and Saint Mary's College will honor the Civil Rights Leader with events all week. Three are open to the South Bend-area community and the public is encouraged to attend. Student Involvement and Multicultural Services (SIMS), the Center for Women's Intercultural Leadership (CWIL), and the Sisters of Nefertiti, a student club which celebrates the history, culture, and contributions of African-Americans, are co-sponsors for the week.
"This year our efforts are focused on reviving one of Doctor King's many messages by encouraging growth of a generation of peace, in which we hope to educate both our campus and people from the community while celebrating the life of such a wonderful figure in history," said Tamara Taylor, assistant director of SIMS. "SIMS provides multi-cultural education and outreach to the campus community and we extend that outreach to the South Bend community as we remember Doctor King."
Events open to the public are:
o   Tuesday, January 17: Rashied Omar, Research Scholar of Islamic Studies and Peacebuilding, University of Notre Dame, will speak about peace at 5:30 p.m. in the Student Center Lounge.
o   Wednesday, January 18: The March to Mass will begin in the Student Center at 8:30 p.m. and proceed to Holy Spirit Chapel in Le Mans Hall where Mass will begin at 9 p.m.
o   Thursday, January 19: Saint Mary's students will present their entries in the Peace Project Contest at 5:30 p.m. in the Student Center Lounge. Students were invited to submit an original poem, speech, photo, painting, or graphic design that is focused on the importance of peace.
In addition, the Saint Mary's College community is invited to the opening ceremony for the week to be held on Monday, January 16 at 5:30 p.m. in the Student Center Lounge. The Sisters of Nefertiti will speak about the importance of remembering King today. On Friday, January 20, the campus community is encouraged to attend the Martin Luther King, Jr. Peace Dinner at 5:30 p.m. in the Student Center Lounge. RSVP to Taylor at ttaylor@saintmarys.edu. For more information on these events, you may contact Taylor by email or (574) 284-4562.
About Saint Mary's College: Saint Mary's College, Notre Dame, Ind., is a four-year, Catholic, women's institution offering five bachelor's degrees and more than 30 major areas of study. Saint Mary's College has six nationally accredited academic programs: social work, art, music, teacher education, chemistry and nursing. Saint Mary's College ranks among the top 100 "Best National Liberal Arts Colleges" for 2012 published by U.S.News and World Report. Founded in 1844, Saint Mary's is a pioneer in the education of women, and is sponsored by the Sisters of the Holy Cross.