Lecture to Consider Contemporary Feminist Movements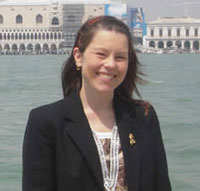 Contact:
Gwen O'Brien
Director of Media Relations
Saint Mary's College
(574) 284-4579
February 21, 2011 (Notre Dame, Ind.)–Saint Mary's College will host Mary Caputi, professor of political science at California State University, Long Beach, on Thursday, March 1. Caputi will present her lecture, "Warrior Women vs. Ragpickers: Divergent Paths in Contemporary Feminism," at 7 p.m. in Stapleton Lounge, Le Mans Hall. The event is free and open to the public. Click for a campus map.
Caputi's lecture will provide a glimpse into contemporary feminist movements. She will discuss feminist theory, ideas about feminism, and why it matters. The professor argues that placing activism above theory instead of side by side can actually make activist work more difficult, particularly if people are not aware of cultural differences between themselves and the people they work for and with. Her belief is that feminist activism should include both action and education.
"What I'd like people to take from the lecture is a realization that the context in which feminism finds itself today is causing it to change. Globalization, immigration, and migrating global capital is causing its definitions to shift, and this is where feminism's attentions should be—not on reproducing the worst of America's rugged individualism," Caputi said.
Stacy Davis, associate professor of religious studies and coordinator of the women's studies program at Saint Mary's College, invited Caputi to speak at the College. Caputi taught in the Department of Political Science at Saint Mary's in the early 1990s and was the first professor to teach the course Introduction to Women's Studies. Davis further explained Caputi's lecture.
"There are many ways to be feminist, but all of those ways should be sensitive to other cultural contexts. Feminist activists want to help women and men live the best lives they can," said Davis.
"Different cultural contexts shape, and sometimes misshape, feminist understanding and feminist activism," Davis added. Caputi will explain the different ways Western and non-Western contexts understand feminism.
"In working as activists, it is important to be inclusive of all the different types of women and activism because there is more than one way to be liberated. Before entering into another culture, advocates must understand the women's power structure within these other cultural groups," explained Davis.
Caputi said on her California State University, Long Beach homepage, "My research interests are in the areas of feminist and critical theories, psychoanalysis, postcolonial scholarship, and American and cultural studies. In both my writing and teaching, I take an interdisciplinary approach, since such an approach best captures the richness and relevance of theoretical insight to the larger cultural context."
The lecture is sponsored by the Women's Studies Program, the Center for Women's Intercultural Leadership, the Department of Political Science, and the Intercultural Studies Program.
About Saint Mary's College: Saint Mary's College, Notre Dame, Ind., is a four-year, Catholic, women's institution offering five bachelor's degrees and more than 30 major areas of study. Saint Mary's College has six nationally accredited academic programs: social work, art, music, teacher education, chemistry and nursing. Saint Mary's College ranks among the top 100 "Best National Liberal Arts Colleges" for 2012 published by U.S.News and World Report. Founded in 1844, Saint Mary's is a pioneer in the education of women, and is sponsored by the Sisters of the Holy Cross.