"Puss in Boots," a Music Student Production, Feb. 16-18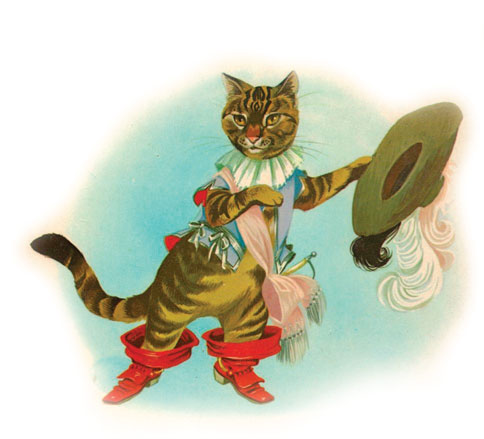 Contact:
Gwen O'Brien
Director of Media Relations
Saint Mary's College
(574) 284-4579
January 19, 2011 (Notre Dame, Ind.) – The Saint Mary's College Department of Music will present the children's opera El Gato con Botas, more commonly known as Puss in Boots, next month as its spring musical production. With a cast made up exclusively of Saint Mary's students, the opera will be performed, in English, Thursday, February 16 and Friday, February 17 at 7:30 p.m. There will also be a matinee at 2:30 p.m. Saturday, February 18. Performances will take place in Little Theater, Moreau Center for the Arts. Box office information can be found below.  
This 20th century opera uses music to tell the 17th century French fairy tale of a cat that uses trickery and deceit to gain power, wealth, and the hand of a princess for his penniless master. Laurel Thomas, professor and chair of the music department, says the production is fun and speaks to the child in all of us. Thomas' favorite scene "is with the cat chasing rabbits because it is like playing freeze tag. It is pretty wild; we're trying to really capture the imaginations of the children."
The audience can also expect to see some really beautiful dances by music students who, in some cases, are also in the College's dance program, said Thomas. "This opera incorporates a lot of dance, which is unusual, but I think it makes it more entertaining. Although El Gato con Botas is labeled as an opera for children, the audience can expect more than singing. There will be magic, surprise, and lots of movement. For example, in the plot, the ogre magically turns himself into a lion, a parrot, and a mouse."
The Saint Mary's College Department of Music puts on one musical production each spring. The aim is to select either a full opera or scenes from an opera. It is a way to give music majors and singers a chance to perform. Thomas said she had to be careful when selecting the opera, which she did during the summer. She suspected her cast would be mostly made up of first-year students, whom she hadn't met yet. She needed to choose something that was vocally possible for young voice students. While the cast is made up mostly of freshman, a senior, Ashley Biehl '12, will play the cat. Students have just five weeks to practice before putting on the show.  
Puss in Boots is one of the Mother Goose tales written by Charles Perrault of France in the late 1600s. Composer Xavier Montsalvatge of Catalonia (a region in northeast Spain) wrote the opera El Gato con Botas in 1947.
Tickets can be purchased at moreaucenter.com or by calling the Box Office at (574) 284-4626.
Adults: $11
Children (ages 12 and under): $5
Senior Citizens: $9
SMC/ND/HCC Faculty and Staff: $8
SMC/ND/HCC Students: Free with ticket
Click for a campus map.
About Saint Mary's College: Saint Mary's College, Notre Dame, Ind., is a four-year, Catholic, women's institution offering five bachelor's degrees and more than 30 major areas of study. Saint Mary's College has six nationally accredited academic programs: social work, art, music, teacher education, chemistry and nursing. Saint Mary's College ranks among the top 100 "Best National Liberal Arts Colleges" for 2012 published by U.S.News and World Report. Founded in 1844, Saint Mary's is a pioneer in the education of women, and is sponsored by the Sisters of the Holy Cross.