New Department in Global Studies Will Offer Major and Minor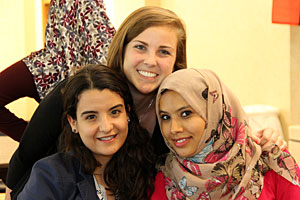 Clockwise from top: Kaitlyn Rabach, a sophomore at
Saint Mary's; Sarah, a 19-year-old student from Libya;
and Salwa, a 22-year-old graduate student from Tunisia.
All three women participated in the SUSI project this
summer. Rabach plans to major in political science and
global studies. Contact:
Gwen O'Brien 
Director of Media Relations
Saint Mary's College
Notre Dame, IN 46556
(574) 284-4579
August 14, 2012 (Notre Dame, Ind.)—Saint Mary's College begins the 2012-13 year with a new academic department, the Department of Global Studies, which offers a new major and minor in global studies. The College has a long history of global education with a robust portfolio of study abroad programs offered through the Center for Women's Intercultural Leadership (CWIL).  The new major and minor programs in global studies provide students with an academic home that centers on developing global skill sets in addition to disciplinary knowledge.
"The global studies programs implement key components of President Carol Ann Mooney's strategic plan which, in part, seeks to prepare our students to fully participate in the emerging global community," said Jill Vihtelic, chair of the Department of Global Studies and a professor of business. "As Doctor Mooney says in the plan, it is no longer sufficient for our graduates to be prepared to work only in the United States. Today's graduates must be prepared to work with, and compete with, colleagues from around the globe and potentially to spend some portion of their careers living outside the United States."
Global studies is an inter-disciplinary major in which students learn about the economic, historical, cultural, geographical, and political factors that influence global processes.
"The major is built around a core of globally oriented social science courses which provide a foundation for upper-level concentrations in which the student can take advantage of a wide array of curricula at Saint Mary's and tailor her major to her interests and future professional goals," Vihtelic explained.
Courses deal with topics as diverse as Women in Africa and the Middle East; Globalization and Economic Development; Migration and Diasporas; Politics of Multiculturalism; International Trade and Finance; European Literature, History, and Culture. A student in this major will be required to demonstrate proficiency in at least one world language and spend at least five weeks in college-sponsored study or internship abroad programs.
There are seven possible concentrations in this major:
• Gender and Women's Studies
• Global Business Administration
• Global Economics
• International Higher Education Administration
• Intercultural Studies
• International Development
• Modern European Culture
"The global studies major and minor will lay the foundation for careers in a wide range of globally oriented fields," said Vihtelic. "These include opportunities with both public and private sector organizations as well as the vast and growing world of non-profit agencies, institutions and foundations, research centers, public interest groups, and non-governmental development agencies."
Kaitlyn Rabach is a sophomore who plans to major in two disciplines—political science and global studies with a concentration in gender and women's studies. She plans to attend law school to study international law.
"My political science major will allow me to study politics within my own country, and this new major will allow me to broaden my horizons and learn of the many different cultural and political practices that occur outside of the United States," said Rabach. "Since global studies is an interdisciplinary major, it will allow me to not only take classes in this particular field, but it will also introduce me to courses in economics, anthropology, world history, and most importantly, it will force me to work on my foreign language skills."
Rabach is not missing any opportunity to broaden her intercultural competence. This fall she will study abroad in Morocco at Al Akhawayn University. Over the summer she served as a mentor to international students at a Study of the United States Institute (SUSI) hosted by the College and sponsored by the U.S. Department of State.
"I met young women leaders from all parts of the world and learned about many different issues facing their countries in terms of women's issues, economics, and human rights," Rabach said. "The SUSI program opened my eyes to the many injustices the world faces, and it also showed me that many Americans do not know what goes on outside of their own borders. This new major will allow me to further explore such international issues."
Students interested in the major or minor in global studies may contact Jill Vihtelic by email or (574) 284-4585.
About Saint Mary's College: Saint Mary's College, Notre Dame, Ind., is a four-year, Catholic, women's institution offering five bachelor's degrees and more than 30 major areas of study. Saint Mary's College has six nationally accredited academic programs: social work, art, music, teacher education, chemistry and nursing. Saint Mary's College ranks among the top 100 "Best National Liberal Arts Colleges" for 2012 published by U.S.News and World Report. Founded in 1844, Saint Mary's is a pioneer in the education of women, and is sponsored by the Sisters of the Holy Cross.