Saint Mary's College Launches New Website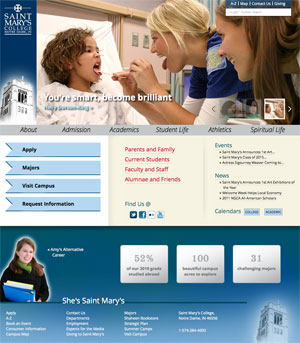 Contact:
Gwen O'Brien
Director of Media Relations
Saint Mary's College
(574) 284-4579
October 10, 2011 (Notre Dame, Ind.)—Saint Mary's College launched the first phase of its website redesign on Saturday, October 8. Most of the changes are to the home page, which displays new features and supporting content. Enhancements will be made throughout the site in the future. The former website went online in October 2007. Since that time, the College has updated its research to determine how to more effectively deliver information to the site's visitors, primarily prospective students and parents. The web address remains saintmarys.edu.  
Members of the Integrated Marketing Communications Department redesigned the site based on user feedback, assessments of peer institutions, trends in admission practices and educational marketing. Assistant Vice President of Integrated Marketing Communications Karen McDonald, Director of Web and Interactive Communications Daniel Miller and Assistant Director of Web Communications Peter Mlodzik worked closely on the project.
"We all know four years is a long time in today's online world. We didn't want our site to become stale," said McDonald.
The redesigned home page provides a strong sense of the College, what it stands for and how it is different from competitors. The site focuses on four of the College's strengths to recruit students—academics and majors, excellent faculty as mentors, post-graduate successes and the value of Saint Mary's education.
New headlines and corresponding stories demonstrate the Saint Mary's experience, such as "Discover Who You're Meant to Be," "You're Smart, Become Brilliant" and "Invest in Yourself." The new home page also features a large module displaying videos, pictures and links to stories about Saint Mary's women as well as direct links to social media sites.
Students who previewed the redesigned home page had positive reviews. "It caters to everyone's needs, not only the students and faculty but parents, family and alumnae as well," said Cara Kielty '13.
Kate Kellogg '13 said she especially enjoyed the revised main module featuring pictures and clips of the experiences and accomplishments of Saint Mary's women. "The students look natural instead of posed," said Kellogg. "You can picture yourself going to Saint Mary's when you see the site."
McDonald hopes visitors to the site will see the College as a community where women develop intellectually and spiritually. "We want them to see that Saint Mary's is a vibrant academic community where the focus is on the holistic education (heart, mind, and soul) of young women," she said.
About Saint Mary's College: Saint Mary's College, Notre Dame, Ind., is a four-year, Catholic, women's institution offering five bachelor's degrees and more than 30 major areas of study. Saint Mary's College has six nationally accredited academic programs: social work, art, music, teacher education, chemistry and nursing. Saint Mary's College ranks among the top 100 "Best National Liberal Arts Colleges" for 2012 published by U.S.News and World Report. Founded in 1844, Saint Mary's is a pioneer in the education of women, and is sponsored by the Sisters of the Holy Cross.