Olympian to Discuss Discerning a Business Career with Community Focus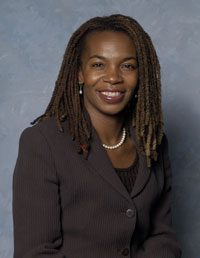 Stephanie Hightower, 1980 Olympian,
Board Chairperson of the USA Track &
Field Association, and President/CEO
of the Columbus Urban LeagueContact:
Gwen O'Brien
Director of Media Relations
Saint Mary's College
(574) 284-4579
(NOTE: THE TIME FOR THIS EVENT IS CHANGED FROM 9 A.M. TO 1:30 P.M.)

October 15, 2013 (Notre Dame, Ind.)—The Cross Currents Program and the Women's Executive Forums at Saint Mary's College and KeyBank's Key4Women are pleased to welcome to campus Olympian Stephanie Hightower. Hightower is board chairperson for the USA Track & Field Association and president and CEO of the Columbus Urban League (CUL). She will deliver a presentation entitled "Developing Your Lifelong Brand" in which she will discuss discerning her career path. The event will take place at 1:30 p.m. on Friday, November 1 in Vander Vennet Theatre in the Student Center. (Click for a campus map.) The event is free and open to the public.
"We are excited to have Ms. Hightower at Saint Mary's to talk about her career and accomplishments.  She is a strong testament to what can be accomplished with hard work and dedication," said Stacie Jeffirs, Director of the Career Crossings Office.
Hightower holds several American and World Records in Track & Field and was a member of the 1980 Olympic team before retiring in 1988. She went on to work in leadership roles in government, amateur athletics, the not-for-profit human service arena, public education and higher education. As former vice president of institutional advancement for Columbus College of Art and Design, Hightower completed a $12 million campaign for capital improvements and endowment growth.
In 2011, Hightower became the first female president and CEO in the 93-year history of the CUL. The community-based non-profit organization is the seventh largest affiliate of the National Urban League. The CUL empowers families in need by delivering 19 different programs focused on early childhood, primary, secondary and adult education, housing support services, workforce development, and community outreach to special populations in Central Ohio.
The talk is part of the Cross Currents Program's Collegiate Speakers Series, funded by the Lilly Endowment's Initiative to Promote Opportunities through Educational Collaborations. Please direct all questions regarding this event to Stacie Jeffirs, director of the Career Crossings Office, at sjeffirs@saintmarys.edu.
About Saint Mary's College: Saint Mary's College, Notre Dame, Ind., is a four-year, Catholic residential, women's liberal arts college offering five bachelor's degrees and more than 30 major areas of study, such as business, nursing, art, chemistry, and social work. The College's single-gender environment has been proven, in study after study, to foster confidence, ethical leadership, and strong academic success. Saint Mary's College ranks 76 among the 248 "Best National Liberal Arts Colleges" for 2014 published by U.S. News and World Report. Founded in 1844 by the Sisters of the Holy Cross, Saint Mary's College's mission is to educate women and prepare them for postgraduate success whether it's a first job, graduate school, or postgraduate service.