"Islam Between Violence and Peace" Lecture Planned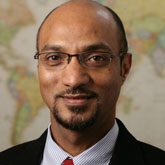 A. Rashied Omar, PhD, Kroc Institute
for International Peace Studies,
University of Notre DameContact:
Gwen O'Brien
Director of Media Relations
Saint Mary's College
gobrien@saintmarys.edu
(574) 284-4579
April 19, 2012 (Notre Dame, Ind.)- The Saint Mary's College Center for Women's Intercultural Leadership (CWIL), in conjunction with the Center for Spirituality (CFS), will welcome A. Rashied Omar, PhD. to campus. Omar, of the Kroc Institute for International Peace Studies at the University of Notre Dame, will present his lecture "Islam Between Violence and Peace." at 7 p.m., Wednesday, April 25 in Stapleton Lounge in Le Mans Hall (campus map). This event is free and open to the public.
Mana Derakhshani, associate director of CWIL, said that Omar will offer the audience his scholarly perspective of the Islamic religion. She explained that it is not uncommon for views on Islam to be swayed by society and that lOmar's work places Islam in  different contexts politically and culturally.
"I hope those who attend the lecture will learn about Islam from an expert who presents a balanced view, not one of extremism. In general, most of us do not know enough about Islam to have an impartial perspective on the images the media presents to us," Derakhshani said.  
She noted that the topic of religion is complex. Educating students and others is one way to bring awareness of other people, religions and cultures.
"One of the biggest problems facing Islam is that its tenets are not very well known, so it is difficult for fair-minded people to reach any kind of balanced opinion about it. In general, religions have been used and abused by people for their own interests. They are also lived realities that have a specific cultural context, which may color how the religion presents itself," Derakhshani said.
This will not be Omar's first appearance at Saint Mary's. In January, Omar spoke before a small group of Saint Mary's faculty and administrators who are sponsored by CWIL and participate in a reading group on Islam. The readings and discussions done by this group are in line with faculty development efforts to encourage and enhance global learning and intercultural competence throughout the College.
"At this time, as Saint Mary's is seeking to achieve greater diversity in the College. provide students with learning opportunities that will prepare them for global realities, it is important to learn about one of the world's major religions," Derakhshani said.
Omar is a research scholar of Islamic studies and peace building at the Kroc Institute for International Peace Studies at the University of Notre Dame. He received his M.A. and Ph.D. in religious studies from the University of Cape Town as well as a M.A. from the Kroc Institute in peace studies. Additionally, he completed studies in Islamic religious education in South Africa, Sudan, Pakistan, and Malaysia.
Both Omar's research and teaching is focused on religious violence and the potential of religious peace based on war, peace, and interreligious dialogue.
Aside from teaching a course on Islamic Ethics of War and Peace in the spring semester, Omar spends the remainder of the year as a field research advisor to Kroc master's students in Cape Town.
About Saint Mary's College: Saint Mary's College, Notre Dame, Ind., is a four-year, Catholic, women's institution offering five bachelor's degrees and more than 30 major areas of study. Saint Mary's College has six nationally accredited academic programs: social work, art, music, teacher education, chemistry and nursing. Saint Mary's College ranks among the top 100 "Best National Liberal Arts Colleges" for 2012 published by U.S.News and World Report. Founded in 1844, Saint Mary's is a pioneer in the education of women, and is sponsored by the Sisters of the Holy Cross.