Sisters, Students Share Faith and Build Friendships in Course Assignment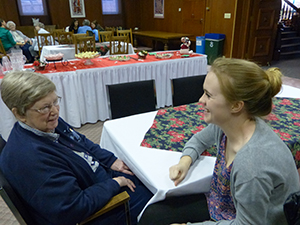 Sister Charles Allen Reynolds, CSC, enjoys hearing Saint
Mary's College student Maddie Cushing '16, right, recount
highlights of the time the two spent together as part of an
oral history project focused on faith-sharing.By Gwen O'Brien
January 15, 2014 (Notre Dame, Ind.)— Marne Austin, PhD, hit the ground running in August as an incoming assistant professor of communication studies. Austin, who positions herself as an intercultural and relational communication scholar, likes to encourage students to engage directly with their communities.
As she considered Saint Mary's and her new Intro to Communication Studies course, she thought of a population on campus that students may not normally engage with — the Sisters of the Holy Cross. The congregation's motherhouse is on site, and is home to sisters of all ages — from novices to centenarians. Austin decided on an oral history project assignment for the 40 students in the course. One or two students would be paired with a sister and meet five times over a five-week period to get to know one another, collect oral histories of the sisters' faith experiences, and create a video archive for the College and the congregation.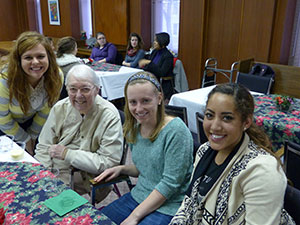 Saint Mary's College students and Sister Jane Frances Reus,
CSC, are all smiles as they celebrate the completion of the
oral history class project. Sister was paired with Mary
Kimball '16 and Taylor Knoles '16, on her right. Lauren
Wells '16 is on the far left.What began as a class project evolved into eye-opening, intergenerational experiences of faith sharing and friendship for both the undergraduate students and the sisters, most of whom are age 70 or older.
Kathryn Mathews, a first-year student, was paired with Sister Maura Brannick, CSC, who opened a clinic in an impoverished neighborhood in South Bend, Indiana. Mathews relayed that part of what got the clinic off the ground was creating an alliance with a neighborhood motorcycle gang. "They told her to let them know if anyone messed with her," Kathryn said. "She still goes to the clinic once a week. She wants to help the community as long as she lives."
Kathryn, who is not Catholic, said before meeting her sister, she thought sisters sat in quiet reflection all day. "She's done a lot of amazing things. She has a voice in the community and bettered it. She is an amazing woman."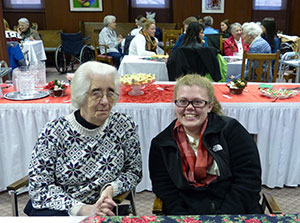 Jackie Rooney '17, right, and Sister Susan Kintzele, CSC,
enjoy refreshments and each other's company during a
reception celebrating the completion of the oral history
class project.Lauren Wells, a sophomore, said at  their third meeting,  Sister Mary Elizabeth Loughran, CSC,  "dropped a bomb shell" when she told her she spent 28 years doing mission work in Brazil where she witnessed incredible poverty. She shared with Lauren a faith-filled story about a teenage boy who asked the sister if she could bring the Eucharist to his grandmother who was on the brink of death and the long, winding journey to get it to her.
Maddie Cushing, a sophomore, learned that Sister Charles Allen Reynolds' birth name was also Madeline and that they shared a love for literature, taking photographs, and candy (they both have candy jars within arm's length).
Ashley Dickson, a junior, discovered that Sister Barbara Jeanne Fehr, CSC,  spent 15 years in Bangladesh and taught at a school there.
Megan Holthus, a sophomore, was surprised to learn that Sister Grace Watson, CSC, was Stanford educated and opened a homeless center.
Carolyn Schafer, a junior and a Catholic, thought all Catholics were conservative until she met her partner, Sister John Margaret Dietzen, CSC. "I didn't know sisters would have such strong opinions or that there is a spectrum of views in Catholicism."
Rachel Schwartz, a junior, and Kirsten Cather, a sophomore, were both surprised when their sister partners, Sisters Leonora Donnelly and Anna Mae Golden, told them their fathers were upset when they decided to become sisters but both boasted about them later.
The students also learned about how Sisters of the Holy Cross go where they are needed to serve in response to the needs of God's people, which is often outside of the United States. This gave students, many of whom had studied abroad or would be, another relatable subject to explore with the sisters.
The students have completed their videos, which may one day be compiled into a documentary as a future student project.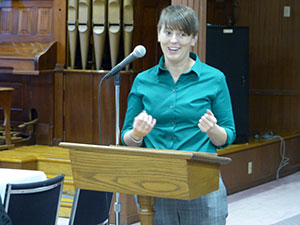 Marne Austin, assistant professor of communication studies
at Saint Mary's College, offers some comments at the
reception at the convent celebrating the conclusion of the
oral history project.Austin said of the experience, "As a teacher, I feel most often we engage in these projects with an idea in mind and a general trajectory knowing that, if we are honest, we have no idea where we will end up, yet hope for the best. We ask our students to trust us and take this leap of faith with us to learn together. I was so fortunate to have this group of young women take this leap with me. It has truly been a blessing to witness their personal, scholarly, and spiritual growth through this process. We are forever grateful to our sisters."
Gwen O'Brien is director of media relations at Saint Mary's College. News media interested in interviewing the professor and/or students mentioned in this story may contact her at gobrien@saintmarys.edu or (574) 284-4579. Reporters interested in contacting the Sisters of the Holy Cross may reach out to Amy Smessaert, communications director for the congregation, at amys@cscsisters.org or (574) 284-5728.