Jill Moore Clouse '99 Receives 2014 Outstanding Young Alumna Award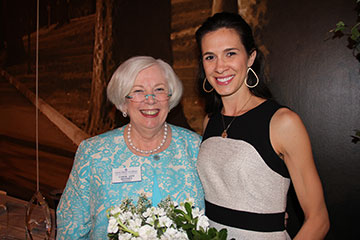 Outstanding Young Alumna Award recipient Jill Moore Clouse '99 poses
with Saint Mary's College President Carol Ann Mooney.Contact:
Gwen O'Brien
Director of Media Relations
Saint Mary's College
(574) 284-4579

June 1, 2014 (Notre Dame, Ind.)—The Outstanding Young Alumna Award, awarded annually by the Alumnae Association of Saint Mary's College, Notre Dame, IN, honors an alumna who exhibits leadership not only in her personal and professional accomplishments, but also in her involvement with the Alumnae Association and/or the College. A candidate for this award would have graduated from this Catholic liberal arts women's college within the last 15 years. The 2014 recipient is Jill Moore Clouse '99, of Glen Ellyn, IL. The award was announced Saturday, May 31, at the Reunion Banquet held on campus.
Clouse, who earned a degree in history from Saint Mary's and a master's in education from Northwestern University, is the career coach for Higher Education Administration and Policy master's students at the Kellogg School of Management at Northwestern, providing career counsel to a diverse group of part-time MBA students. Recently recognized by her supervisor for demonstrating leadership, she voluntarily stepped up and shouldered more responsibility for the strategic direction and tactical implementation of student programming. Clouse has also started a new venture where she works one-on-one with clients on the specific career management needs through individualized coaching appointments.
She helps students manage and navigate complex career decisions, opportunities, and issues, often those that involve balancing work, school, and family, according to her award citation. "Jill is dedicated to her career and still manages to find time to spend with her family and friends," said Kate Moot Eichstadt '99, one of Jill's nominators.
Clouse displays the same leadership abilities to benefit the College. Along with other alumnae, Clouse revived the Chicago East alumnae club in 2000 and chaired the club's send-off event for several years. She was a member of the Alumnae Association Board of Directors for six years and served on the Reunion Gift Committee for all three of her reunions. She even chaired the committee for her 10 year reunion.
She is active in her church, leading prayer groups and bible studies. She has also started mothers' groups in many of the cities in which she has lived. She volunteers with organizations such as Make a Wish and Feed My Starving Children. Even outside of organized volunteering, she extends her kindness and leadership to others. When a family in her community lost their six-year-old daughter to cancer, Clouse organized an anonymous effort so that every week for a year, the family received a card or letter from friends and neighbors letting them know that they were loved.
The Outstanding Young Alumna Award recognizes leadership, and as nominator Cindy Meyer Wargocki '99 said, "She is not just a leader, but a leader Saint Mary's College should be proud of. Jill makes the world a better place working hard professionally, socially, and in her faith." 
About Saint Mary's College: Saint Mary's College, Notre Dame, Ind., is a four-year, Catholic, residential, women's liberal arts college offering five bachelor's degrees and more than 30 major areas of study, such as business, nursing, art, chemistry, and social work. The College's single-gender environment has been proven, in study after study, to foster confidence, ethical leadership, and strong academic success. Saint Mary's College ranks 76 among the 248 "Best National Liberal Arts Colleges" for 2014 published by U.S. News and World Report. Founded in 1844 by the Sisters of the Holy Cross, Saint Mary's College's mission is to educate women and prepare them for postgraduate success whether it's a first job, graduate school, or postgraduate service.