2013 Outstanding Young Alumna Award Announced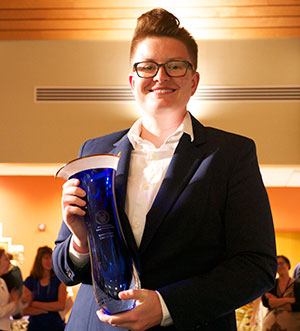 Kristen Matha '03, the 2013 recipient of the
Outstanding Young Alumna AwardContact:
Gwen O'Brien
Director of Media Relations
Saint Mary's College
(574) 284-4579

June 3, 2013 (Notre Dame, Ind.)—The Outstanding Young Alumna Award honors an alumna of Saint Mary's College who exhibits leadership not only in her personal and professional accomplishments, but also in her involvement with the Alumnae Association or the College directly. A candidate for this award would have graduated from this Catholic liberal arts women's college within the last 15 years.
The 2013 recipient is Kristen Matha '03 of Indianapolis. She received the Outstanding Young Alumna Award at the Reunion Banquet Saturday, June 1 as part of Reunion Weekend, May 30-June 2. She is recognized as an exemplary leader in her professional life and in her relationship with the College.
Matha graduated from Saint Mary's with a bachelor's degree in political science and a minor in women's studies. She went on to receive her law degree magna cum laude from Michigan State University College of Law in 2006 and was admitted to practice law in the state of Indiana. She gained experience in athletics compliance while interning for the Michigan State University Office of Compliance Services.
As a Saint Mary's student, Matha was a four-year letter winner in basketball, a student-athlete representative to the Michigan Intercollegiate Athletic Association and served as student trustee. She parlayed her athleticism and leadership skills into a career, joining the National Collegiate Athletic Association in 2006 as a member of the NCAA post-graduate internship program. Currently, Matha leads the department's information management group, which is focused on improving the department's efficiency and effectiveness in desktop investigation, technology, and knowledge management. During her time with enforcement, she has investigated and processed major violations of NCAA legislation, primarily in the sport of Division I men's basketball. Additionally, she has been engaged in several national office initiatives, including the Inclusion Forum Planning Team, Information Security Project Team, and Learning Management System Project Team. 
Matha is a devoted Saint Mary's alumna. She stays involved with College athletics and never misses an alumna basketball game. She acts as an NCAA resource to the athletic department, answering questions regarding legislation. She regularly participates in political science networking events on campus, serving on discussion panels and attending department lunches. In addition, she is part of the Alumnae Resource Network, as well as co-chair of her class Reunion Gift Campaign for 2013.
Matha also lends her knowledge and experience to the task of mentoring current students. "Kristen is one of those successful young professionals that we want our current students to meet and interact with. She has a passion for what she does and an appreciation for how her time here at Saint Mary's prepared her for her career," said Director of Athletics Julie Schroeder-Biek '88 in nominating Matha.   
Matha has also devoted her time and enthusiasm to helping fellow former basketball teammate Anne Blair Payne '02. Last summer Payne was diagnosed with lymphoma and Matha and her teammates set up a giving site to help offset her treatment costs. They had bracelets made and distributed them to raise awareness for Payne's cause; they communicated her needs to supporters through social media; and they organized events to support her fight against cancer.
According to Payne, who nominated her for this award, Matha "was an ambassador" on her road to recovery. In addition to the aforementioned, Payne said Matha "was like family to me as she sat in chemotherapy sessions and took the time to visit and bring over food to me and my family. She is a leader and a remarkable person in my eyes, who demonstrates so many of the qualities and values that Saint Mary's stands for."
Click for information on the other 2013 Alumnae Association Award recipients.
About Saint Mary's College: Saint Mary's College, Notre Dame, Ind., is a four-year, Catholic, residential, women's liberal arts college offering five bachelor's degrees and more than 30 major areas of study, such as business, nursing, art, chemistry, and social work. The College's single-gender environment has been proven, in study after study, to foster confidence, ethical leadership, and strong academic success. Saint Mary's College ranks among the top 100 "Best National Liberal Arts Colleges" for 2013 published by U.S. News. Founded in 1844 by the Sisters of the Holy Cross, Saint Mary's College's mission is to educate women and prepare them for postgraduate success whether it's a first job, graduate school, or postgraduate service.