College Announces New Director of Corporate and Foundation Relations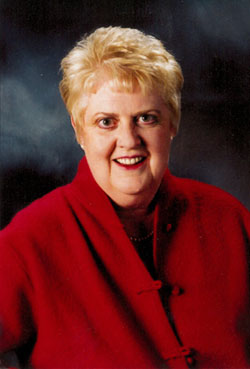 Director of Corporate and Foundation
Relations Patricia Doyle '69Contact:
Gwen O'Brien
Director of Media Relations
Saint Mary's College
(574) 284-4579
October 18, 2012 (Notre Dame, Ind.)–Saint Mary's College is pleased to announce and welcome Patricia K. Doyle '69, as director of corporate and foundation relations. Doyle began her position last month.
In her new role, Doyle's primary duties are to research and build relationships with private foundations, corporations, and government agencies to secure long-term financial support and active involvement with the College. In addition, she will work closely with College administrators and faculty to identify strategic initiatives that would lend themselves to foundation or corporate support.
"Patricia Doyle is a 1969 graduate of Saint Mary's and a South Bend native. She brings a wealth of knowledge to this position, with thirty-four years of grant writing experience, mainly focused on the arts and health care," said Libby Gray '93, director of development.
"Patti will work on applying for corporate, foundation, and government grants for the College as well as assisting faculty and staff in their pursuit of funding opportunities for existing and new programs," Gray explained.
Doyle's passion for the arts is evident in education and career. After receiving a bachelor's degree in music from Saint Mary's, Doyle earned a bachelor's in music therapy from the University of Kansas and a certificate in arts administration from the University of California, Irvine.  She had led a professional career in creative arts therapies, music therapy specialty area, counseling and healthcare management for forty-three years.
Doyle enters her position as owner of Doyle and Associates, a South Bend consulting firm specializing in development and marketing. Prior to her career with Doyle and Associates, which began in 2005, she was the executive director of Firefly Festival for the Performing Arts in South Bend and of Rim Family Services in Skyforest, California.
As a Saint Mary's alumna, Doyle approaches her position with an understanding of the College's mission, "Returning to work on Saint Mary's campus after graduating forty-three years ago has been an amazing experience," Doyle said.
"When I first drove down The Avenue and walked towards Le Mans, I was filled with the same feelings of artistry, learning, and inspiration that brought me here so long ago. My position will offer challenges, but most importantly expand fellowship and friendship as I become part of the mission and vision of a 'powerful place built by women for women.'"
About Saint Mary's College: Saint Mary's College, Notre Dame, Ind., is a four-year, Catholic, women's institution offering five bachelor's degrees and more than 30 major areas of study. Saint Mary's College has six nationally accredited academic programs: social work, art, music, teacher education, chemistry and nursing. Saint Mary's College ranks among the top 100 "Best National Liberal Arts Colleges" for 2013 published by U.S. News. Founded in 1844, Saint Mary's is a pioneer in the education of women, and is sponsored by the Sisters of the Holy Cross.