Professor Emeritus of Chemistry Named American Chemical Society Fellow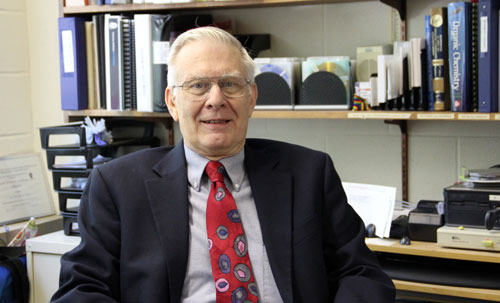 J. Philip Bays, Professor Emeritus of Chemistry, American
Chemical Society FellowContact:
Gwen O'Brien
Director of Media Relations
Saint Mary's College
(574) 284-4579
September 6, 2012 (Notre Dame, Ind.)—Saint Mary's College is proud to announce that the American Chemical Society (ACS) has named J. Philip Bays, professor emeritus of chemistry, an ACS Fellow. The ACS Fellows Program was established in 2008 to recognize society members for outstanding achievements in and contributions to science, the profession, and society. Fellows come from academe, industry, and government. As a member of the ACS Fellow Class of 2012, Bays is among 96 distinguished scientists to be recognized by the organization, which is the world's largest scientific society. Bays is the first Saint Mary's professor to be named an ACS Fellow.
"These chemists hold the future to our country, to our way of life, and to the legacy we will leave for the next generation," said ACS President Bassam Z. Shakhashiri, Ph.D. "They are scientific leaders, improving our lives through the transforming power of chemistry."
Bays has been active with the ACS for decades and has dedicated years to the ACS Project SEED program. Project SEED is a summer research program aimed at high school students from economically disadvantaged backgrounds. The program encourages students to achieve in science and to consider careers in science.
The ACS Committee on Project SEED initiated the nomination of Professor Bays for this award. The Department of Chemistry and Physics at Saint Mary's College and the Saint Joseph Valley section of the ACS strongly supported the nomination. Saint Mary's College chemistry professor Dorothy M. Feigl, the Denise DeBartolo York Endowed Chair in Science, in her nomination letter discussed his contributions as a colleague in the Department of Chemistry and Physics for 34 years, including 10 years as chair. She also spoke of his passion for Project SEED.
Feigl wrote, "Through Project SEED, Phil came to know students whose economic conditions made just completing high school a challenge. He already knew how transforming the college experience is even for students with a family tradition of college education. The accomplishments of SEED students made clear that tapping this talent pool benefits not only the students but also the society they go on to serve."
Bays maintained leadership roles for the St. Joseph Valley Section of the ACS for over 25 years, including service as treasurer, chair, and councilor. As councilor he represented the section on the national governance council for 15 years. Bays worked for Project SEED to recruit mentors, publicize the achievements of the program, secure more funding, and assure that the program's outreach touched as many lives as possible. Even in retirement, Bays remains active with Project SEED, establishing high school liaisons to publicize the program, recruiting qualified students to participate, and seeking new mentors and research locations.
"This is a well-deserved honor for Doctor Bays," noted Christopher Dunlap, chair of the Department of Chemistry and Physics. "Through his work with the American Chemical Society's Project SEED, he has been a tireless advocate for getting students from underrepresented groups into chemical research. He has also mentored many young women pursuing chemistry careers during his time as a faculty member at the College. We are proud to have one of our own receive this honor."
Bays humbly sees himself as "a mentor – for students as a teacher and researcher, for new faculty, and for high school students, helping to provide them with the opportunity to dream and succeed." He said he was stunned to be selected as an ACS Fellow. "If you look at the list you will see many high-powered researchers, former ACS national presidents, long-time members who have devoted their lives to the ACS governance, industrialists, and academicians. I found it a special honor that I was chosen for what I have accomplished coming from a small college environment."
Click for a list of all ACS Fellows (2009-2012) that can be organized by name, institution and state.

About the American Chemical Society (ACS): The American Chemical Society is a nonprofit organization chartered by the U.S. Congress. With more than 164,000 members, ACS is the world's largest scientific society and a global leader in providing access to chemistry-related research through its multiple databases, peer-reviewed journals and scientific conferences. Its main offices are in Washington, D.C., and Columbus, Ohio.
About Saint Mary's College: Saint Mary's College, Notre Dame, Ind., is a four-year, Catholic, women's institution offering five bachelor's degrees and more than 30 major areas of study. Saint Mary's College has six nationally accredited academic programs: social work, art, music, teacher education, chemistry and nursing. Saint Mary's College ranks among the top 100 "Best National Liberal Arts Colleges" for 2012 published by U.S. News and World Report. Founded in 1844, Saint Mary's is a pioneer in the education of women, and is sponsored by the Sisters of the Holy Cross.