Rachael Chesley '11 Receives Fulbright Award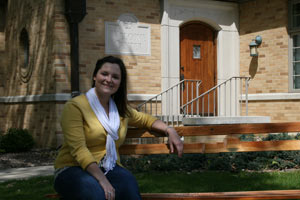 Contact:
Gwen O'Brien
Director of Media Relations
Saint Mary's College
Notre Dame, Ind.
(574) 284-4579
August 26, 2011 (Notre Dame, Ind.)—Saint Mary's College is proud to announce Rachael M. Chesley '11 of New Lenox, Illinois has been awarded a Fulbright U.S. Student Program scholarship to Malaysia in English Teaching Assistantship. She is one of over 1,600 U.S. citizens who will travel abroad for the 2011-2012 academic year through the Fulbright U.S. Student Program. Chesley will depart for Malaysia in January. She spent July 13-15 attending the Fulbright Southeast Asia Orientation in Washington D.C. Rachael will use her time between now and January interning with U.S. Senator Mark Kirk (R) of Illinois as well as U.S. State Representative Renee Kosel (R) of Illinois' 81st District.
"This is a great honor for Rachael and for Saint Mary's College. Rachel's achievement is indicative of the educational quality and intercultural leadership training women receive here," said Alice Siqin Yang, assistant director for global education at Saint Mary's College and the Fulbright program adviser. "Rachael receiving this award will only encourage more Saint Mary's students to apply. As the former student body president, Rachael possesses strong professional and diplomatic skills. She is energetic, curious, and open-minded in learning different cultures. She sets high life goals and has prepared herself in various ways. The Fulbright Program is designed to increase mutual understanding between the people of the United States and the people of other countries. I am confident that Rachael will be an excellent cultural ambassador in Malaysia with her international perspective and outstanding leadership skills."
"Receiving a Fulbright scholarship is literally a dream come true. I am incredibly humbled by the opportunity to represent my country, my community, and Saint Mary's overseas," said Chesley. "My overall responsibility is to teach English while representing the United States and facilitating cultural exchange as well as mutual understanding."
Chesley graduated with a business administration degree with concentrations in management and international business. While on campus, she served as the Saint Mary's student body president from 2010-2011. Rachael has been an advocate for study abroad programs, participating in not only the Saint Mary's Rome program, but also as the first Saint Mary's student to take part in the Korea program. "Saint Mary's College provided me with the incredible people and fantastic resources that allowed me to grow and mature into an independent, confident woman who was excited to take the next step into the future. Saint Mary's provided endless opportunities to get involved and overall, encouraged me to take on leadership roles and challenge myself whether on campus or abroad. That literally has made all the difference, and reminded me that no dream or goal is too big."
Chesley is the fifth Saint Mary's alumna to be granted a Fulbright U.S. Student Program scholarship. Other fellows from the College include Kirsten Kensinger '07, who also recently received a Fulbright award; Tamara Demianczuk Fedoryshyn '07; Nina Helmen Cooper '05; and Katherine Denzel '98. Saint Mary's alumnae are not the only members of the College community to be selected for the Fulbright Program. In 2010, Steven Broad, assistant professor of mathematics, was selected as a Fulbright Scholar Grantee to Brazil. As a result, this summer Broad conducted research in his specialty, classical dynamical systems and differential geometry, and taught a seminar on the subject at the Instituto de Matemática e Estatística of the Universidade de São Paulo (USP-IME).

The Fulbright Program is the flagship international educational exchange program sponsored by the U.S. government. The primary source of funding for the Fulbright Program is an annual appropriation made by the U.S. Congress to the U.S. Department of State, Bureau of Educational and Cultural Affairs. Participating governments and host institutions, corporations and foundations in foreign countries and in the United States also provide direct and indirect support. Recipients of Fulbright grants are selected on the basis of academic or professional achievement, as well as demonstrated leadership potential in their fields. The Program operates in over 155 countries worldwide.
Since its establishment in 1946 under legislation introduced by the late U.S. Senator J. William Fulbright of Arkansas, the Fulbright Program has given approximately 300,000 students, scholars, teachers, artists, and scientists the opportunity to study, teach and conduct research, exchange ideas and contribute to finding solutions to shared international concerns.
About Saint Mary's College: Saint Mary's College, Notre Dame, Ind., is a four-year, Catholic, women's institution offering five bachelor's degrees and more than 30 major areas of study. Saint Mary's College has six nationally accredited academic programs: social work, art, music, teacher education, chemistry and nursing. Saint Mary's College ranks among the top 100 "Best National Liberal Arts Colleges" in the U.S. News & World Report 2011College Guide. Founded in 1844, Saint Mary's is a pioneer in the education of women, and is sponsored by the Sisters of the Holy Cross.