Racial Justice/Responsibility—A Catholic Perspective
—Center for Spirituality Lecture Explores "Crossing the Color Line"—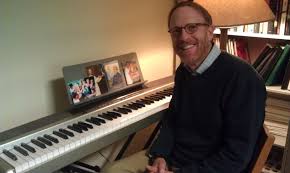 Christopher Pramuk, PhD, is associate professor
of Theology at Xavier University and author of
"Hope Sings, So Beautiful: Graced Encounters
Across the Color Line."Contact:
Gwen O'Brien 
Director of Media Relations
Saint Mary's College
(574) 284-4579
October 31, 2014 (Notre Dame, Ind.)—The Center for Spirituality (CFS) at Saint Mary's College announces an upcoming lecture titled "Crossing the Color Line: A Catholic Perspective on Racial Justice and Responsibility" by Christopher Pramuk, associate professor of Theology at Xavier University and author of "Hope Sings, So Beautiful: Graced Encounters Across the Color Line." The talk will take place on Tuesday, Nov. 11, at 7 p.m. in Stapleton Lounge of Le Mans Hall. The lecture is free and open to the public. Click for a campus map.
The lecture will discuss how the Church is called to respond to racially charged events like those in Ferguson, Missouri, and to broader systemic realities of racial injustice in the United States. A lifelong musician and student of African American history and spirituality, Pramuk will draw from his own experiences of "crossing the color line" along with insights from the Gospels and the prophetic witness of black Catholics to address the question "Where do we go from here?" 
Click for more information on CFS and the lectures, please call (574) 284-4636.
About Saint Mary's College: Saint Mary's College, Notre Dame, Ind., is a four-year, Catholic, residential, women's liberal arts college offering five bachelor's degrees and more than 30 major areas of study, such as business, nursing, art, chemistry, and social work. The College's single-gender environment has been proven, in study after study, to foster confidence, ethical leadership, and strong academic success. Saint Mary's College ranks among the top 100 Best National Liberal Arts Colleges for 2015 published by U.S. News & World Report. Founded in 1844 by the Sisters of the Holy Cross, Saint Mary's College's mission is to educate women and prepare them for postgraduate success whether it's a first job, graduate school, or postgraduate service.