Jasmine Guy Performs in "Raisin' Cane: A Harlem Renaissance Odyssey"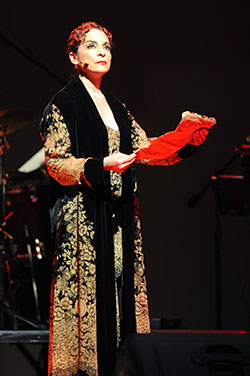 Award-winning actress Jasime Guy
will perform in "Raisin' Cane" on
Thursday, September 18 at
Saint Mary's College.Contact:
Gwen O'Brien
Director of Media Relations
Saint Mary's College
(574) 284-4579
August 14, 2014 (Notre Dame, Ind.)—Saint Mary's College will welcome award-winning actress, singer, and dancer Jasmine Guy and the critically-acclaimed Avery Sharpe Trio to campus on Thursday, September 18 for their performance of "Raisin' Cane: A Harlem Renaissance Odyssey." The event is part of this year's Shaheen/Duggan Performing Arts Series and will take place at 7:30 p.m. in O'Laughlin Auditorium. Ticket information available at moreaucenter.com. Click for a campus map.
The production is inspired by the classic 1923 Jean Toomer novel "Cane" and the works of the musicians, composers, poets, and actors of the Harlem Renaissance.
"We are incredibly fortunate to have Jasmine Guy and the Avery Sharpe Trio visit campus. This production is a rare opportunity for our students and community to experience the Harlem Renaissance through the presence of these talented performers," said Richard Baxter, director of special events at Saint Mary's College.
The Harlem Renaissance, 1918-37, is known as the most influential movement in African American literary and creative arts history — a blossoming of African American culture that embraced literary, musical, theatrical, and visual arts. In the years leading up to the Harlem Renaissance, there was a sense of building artistic expression. Up until then, outlets and avenues for its poets, musicians, novelists, artists, and actors were few. But in 1918, as the first great World War concluded and thousands of African-American soldiers returned home victorious, this mountain of artistic expression was ready to explode.
The words and thoughts of Jean Toomer, Langston Hughes, Countee Cullen, Zora Neale Hurston, W.E.B. Du Bois and many others, became the voice of a new generation of African Americans, looking forward but still struggling with the past and present. These thoughts, songs, and images are woven into a panoramic experience that spans this extraordinary outpouring of artistic endeavor. "Raisin' Cane" is a window on this critical point in history.
Starring the award winning actress, singer, and dancer Jasmine Guy and the acclaimed Avery Sharpe Trio, "Raisin' Cane" celebrates and honors the legendary voices of the Harlem Renaissance through text, song, music, movement, and imagery.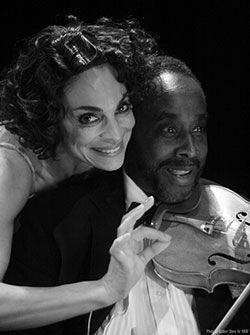 Jasmine Guy has a regular presence on film, television, and stage. She was the star of the "The Cosby Show" spin-off "A Different World" for which she won six consecutive NAACP Image Awards. Television work includes "The Vampire Diaries," "Melrose Place," "NYPD Blue," and "Dead Like Me." A former dancer with the Alvin Ailey American Dance Theater, she has also appeared in a range of Broadway and national productions including "Chicago," "Grease," and "The Wiz." On film, she starred in Spike Lee's "School Daze," as well as in "Harlem Nights," and "Stompin' at the Savoy." She is not only recognized as an accomplished actress, singer, and comedienne, but also as a director, writer, and speaker.
Avery Sharpe is considered one of the greatest Jazz bassists of his generation. He has performed and toured with many of the world's top jazz musicians including Wynton Marsalis, Dizzy Gillespie, Cab Calloway, Bobby McFerrin, Pat Metheny and others. Sharpe's extraordinary compositional skills are on display in "Raisin' Cane." His exceptional works have been performed in every musical configuration from orchestras to the Grammy Award Winning Jazz recordings of Michael Brecker and McCoy Tyner.
About Saint Mary's College: Saint Mary's College, Notre Dame, Ind., is a four-year, Catholic, residential, women's liberal arts college offering five bachelor's degrees and more than 30 major areas of study, such as business, nursing, art, chemistry, and social work. The College's single-gender environment has been proven, in study after study, to foster confidence, ethical leadership, and strong academic success. Saint Mary's College ranks 76 among the 248 "Best National Liberal Arts Colleges" for 2014 published by U.S. News and World Report. Founded in 1844 by the Sisters of the Holy Cross, Saint Mary's College's mission is to educate women and prepare them for postgraduate success whether it's a first job, graduate school, or postgraduate service.