College Sponsors House for Rebuilding Together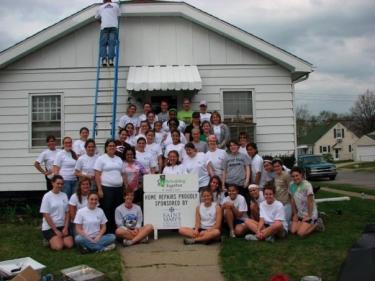 Contact:
Gwen O'Brien
Director of Media Relations
Saint Mary's College
(574) 284-4579
March 30, 2012 (Notre Dame, Ind.) - On Saturday, April 21, Saint Mary's College students, faculty, and staff will roll up their sleeves to participate in Rebuilding Together, a community-driven effort to rehabilitate homes in South Bend. It's the eighth year the College has been involved. Saint Mary's volunteers will complete basic household tasks, such as painting, cleaning and planting at a Saint Mary's sponsored home.
Rebuilding Together is a national program that restores selected houses belonging to elderly, disabled, or low-income homeowners. In South Bend, the project focuses on a different neighborhood each year, improving up to 25 homes selected through an application and screening process. According to the South Bend Tribune, 800 volunteers are expected this year and will rehabilitate 18 homes in the area between 20th, Logan, and Wall streets, east of Indiana University South Bend and north of the St. Joseph River.
"There are usually sixty to seventy Saint Mary's students that participate each year. We are hoping to have just as many, if not more, this year," said Olivia Critchlow, assistant director for the College's Office of Civic and Social Engagement (OCSE). "It gives students, as well as faculty and staff, the opportunity to engage in hands-on work that makes a very real and immediate difference in someone's life. It also allows us to meet people in the community, hear their stories and ease some of their burden.
The event will begin at 7 a.m. and end between 2 and 3 p.m., with bus transportation provided to students to and from campus.
This is the 24th year for Rebuilding Together. Local volunteer groups represent schools, business, and other service groups. Skilled laborers, which include plumbers and roofers, will work on the houses on April 21 and the preceding weekend.
"I am passionate about Rebuilding Together because you are able to see the immediate results of the changes that can occur when a group of people work together to help others. There is nothing quite like the feeling of arriving at a home in the morning and seeing it completely transformed by the time everyone leaves in the afternoon. It is an incredible feeling of accomplishment and community for all involved," Critchlow said.
Rebuilding Together has become a part of the student service experience at Saint Mary's College. Eighty percent of students participate in service before graduating. It is through service events, like Rebuilding Together, that students have the opportunity to connect with those in the community in very real and tangible ways.
On Wednesday, April 11, Saint Mary's will host a blood drive with the South Bend Medical Foundation as this year's fundraiser for Rebuilding Together.
"For every successful unit of blood that is collected, the South Bend Medical Foundation will be donating $5 to the Office for Civic and Social Engagement—who will then cut a check to Rebuilding Together," Critchlow said.
For information on the event or to make a donation to Saint Mary's project, email OCSE or call (574) 284-4573.
OSCE is Saint Mary's College's resource center providing information on community service, one-time volunteer events, service-learning, and special speakers and events relating to community engagement. For more information, please visit OCSE and Rebuilding Together online.
About Saint Mary's College: Saint Mary's College, Notre Dame, Ind., is a four-year, Catholic, women's institution offering five bachelor's degrees and more than 30 major areas of study. Saint Mary's College has six nationally accredited academic programs: social work, art, music, teacher education, chemistry and nursing. Saint Mary's College ranks among the top 100 "Best National Liberal Arts Colleges" for 2012 published by U.S.News and World Report. Founded in 1844, Saint Mary's is a pioneer in the education of women, and is sponsored by the Sisters of the Holy Cross.