Saint Mary's College Sponsors House for Rebuilding Together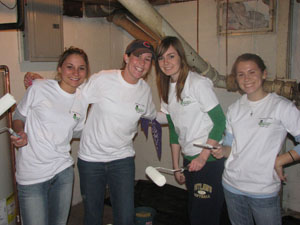 Saint Mary's students participate in Rebuilding Together
by painting the interior of a home.Contact:
Gwen O'Brien
Director of Media Relations
Saint Mary's College
(574) 284-4579
April 8, 2013 (Notre Dame, Ind.)—On Saturday, April 13, an estimated 75 Saint Mary's College students will roll up their sleeves to participate in Rebuilding Together, a community-driven effort to rehabilitate homes in South Bend. It's the ninth year the College has been involved. Students will complete basic household tasks, such as painting, cleaning and planting at a Saint Mary's sponsored home. The event will begin just after 7 a.m. and end at 3 p.m.
Rebuilding Together is a national program that restores selected houses belonging to elderly, disabled, or low-income homeowners. In South Bend, the project focuses on a different neighborhood each year, improving homes selected through an application and screening process. According to the South Bend Tribune, 18 homes will be rehabilitated this year in the city's Westside-LaSalle Park neighborhood. Established in 1989 as Christmas in April, the organization has rehabilitated 827 homes in the city thus far.
"Rebuilding Together gives students the opportunity to engage in hands-on work that makes a very real and immediate difference in someone's life. It also allows them to meet people in the community, hear their stories and ease some of their burden," said Erika Buhring, director of the Office for Civic and Social Engagement and the experiential learning coordinator.
Rebuilding Together has become a part of the student service experience at Saint Mary's College. Eighty percent of students participate in service before graduating. It is through service events, like Rebuilding Together, that students have the opportunity to connect with those in the community in very real and tangible ways.
About Saint Mary's College: Saint Mary's College, Notre Dame, Ind., is a four-year, Catholic, residential, women's liberal arts college offering five bachelor's degrees and more than 30 major areas of study, such as business, nursing, art, chemistry, and social work. The College's single-gender environment has been proven, in study after study, to foster confidence, ethical leadership, and strong academic success. Saint Mary's College ranks among the top 100 "Best National Liberal Arts Colleges" for 2013 published by U.S. News. Founded in 1844 by the Sisters of the Holy Cross, Saint Mary's College's mission is to educate women and prepare them for postgraduate success whether it's a first job, graduate school, or postgraduate service.