Rest in Peace Bishop Emeritus John D'Arcy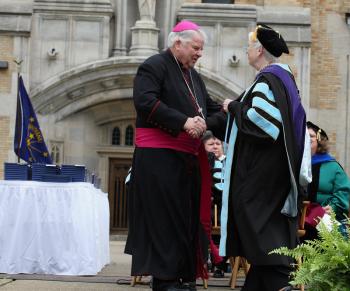 President Carol Ann Mooney presents Bishop John D'Arcy with the
President's Medal at the 2010 Commencement.Contact:
Gwen O'Brien
Director of Media Relations
Saint Mary's College
(574) 284-4579

February 3, 2013 (Notre Dame, Ind. )— The Diocese of Fort Wayne-South Bend has announced the death of Bishop Emeritus John Michael D'Arcy. He passed away today, the 56th anniversary of his first Mass as an ordained priest. He led the diocese for nearly 25 years.
The bishop was very dear to Saint Mary's College, as President Carol Ann Mooney expressed today, "Bishop D'Arcy was himself an academic, and as such really understood the complexities of Catholic higher education. His visits to our campus were marked by his great personal warmth and love for our students. His homilies at Commencement were legendary, and after Mass he would stand and take pictures with students and their families for as long as needed. He will be greatly missed by all who knew him."
At the 2010 Commencement Mooney, on behalf of the College, honored Bishop D'Arcy with the prestigious President's Medal. The medal is presented rarely and exclusively to those who have offered exceptional contributions to the life of the College and society.
Bishop Kevin C. Rhoades along with the diocese, asks for and offers prayers for Bishop D'Arcy, his family, loved ones and friends as together we grieve the loss of our beloved  Bishop D'Arcy.
Funeral arrangements are pending at this time.
About Saint Mary's College: Saint Mary's College, Notre Dame, Ind., is a four-year, Catholic, women's institution offering five bachelor's degrees and more than 30 major areas of study. Saint Mary's College has six nationally accredited academic programs: social work, art, music, teacher education, chemistry and nursing. Saint Mary's College ranks among the top 100 "Best National Liberal Arts Colleges" for 2013 published by U.S. News. Founded in 1844, Saint Mary's is a pioneer in the education of women, and is sponsored by the Sisters of the Holy Cross.