Winter Wonderland Offers Christmas Cheer to Area Children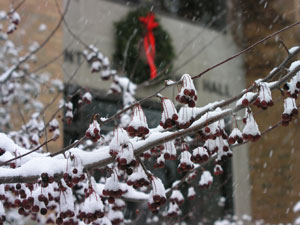 Contact:
Gwen O'Brien 
Director of Media Relations
Saint Mary's College
(574) 284-4579
November 29, 2011 (Notre Dame, Ind.)—The Saint Mary's College's Student Activities Board (SAB) will host its second annual Winter Wonderland party for area children on Saturday, December 3, from 1 to 3 p.m. SAB, which is made up of various student clubs, invited children ages 5-12 from South Bend's Center for the Homeless, Hope Ministries, and Coquillard Primary Center, a Title 1 school with which the College partners. Children of Saint Mary's College faculty and staff are also invited. Events will take place all over campus, but guests must first check in at the Student Center atrium. The media is invited to cover the event. Click for a campus map.
There will be several activities and games for the children, and Santa Claus will be available for photos. Children will frost their own Christmas cookies, create winter crafts, and enjoy other activities sponsored by various clubs.
Stefanie Schwab '13, SAB treasurer, says about 100 children, mostly from Coquillard, attended Winter Wonderland last year. With the invitation extended this year to Center for the Homeless and Hope Ministries, organizers hope to host about 300 children on campus.
"It is exciting because we have 20 clubs participating in the event this year," said Schwab. "The clubs range from the Student Diversity Board to cheerleading, and all bring something unique to the event. It will be a great opportunity for the students to interact with the kids and to give back to the community that we live in."
Megan Woodring '13, chair of SAB's Traditional Events Committee, added, "This event stands out because it brings everyone in the Saint Mary's community together for one specific purpose: to give back during the holiday season. It gets everyone in the holiday spirit."
About Saint Mary's College: Saint Mary's College, Notre Dame, Ind., is a four-year, Catholic, women's institution offering five bachelor's degrees and more than 30 major areas of study. Saint Mary's College has six nationally accredited academic programs: social work, art, music, teacher education, chemistry and nursing. Saint Mary's College ranks among the top 100 "Best National Liberal Arts Colleges" for 2012 published by U.S.News and World Report. Founded in 1844, Saint Mary's is a pioneer in the education of women, and is sponsored by the Sisters of the Holy Cross.