Saint Catherine Medal Awarded to Sophomore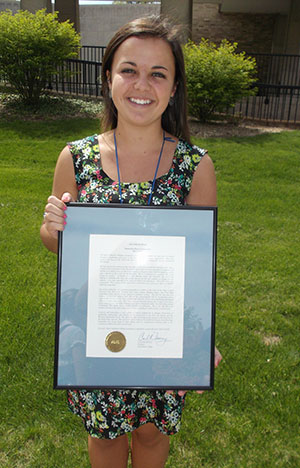 Kelly Gutrich '15 is the 2013 recipient of the
Saint Catherine Medal.Contact:
Gwen O'Brien
Director of Media Relations
Saint Mary's College
(574) 284-4579
May 7, 2013 (Notre Dame, Ind.)—Saint Mary's College President Carol Ann Mooney presented Kelly Gutrich '15 of Tinley Park, Illinois with the Saint Catherine Medal at Honors Convocation on Sunday, May 5. Each year Saint Mary's College awards the Saint Catherine Medal to a sophomore or junior who has demonstrated high standards of personal excellence and scholarship and has contributed to the College community in the spirit of Christian leadership. The award commemorates Saint Catherine of Alexandria, the patron saint of scholars and especially of women scholars. Kappa Gamma Pi, the National Catholic Honor Society, sponsors the award.
Gutrich, who is studying social work and global studies, has been on the Dean's List each semester at Saint Mary's and is the recipient of the Moreau Presidential Scholarship, the most prestigious of the College's academic scholarships. Gutrich is described in her award citation as someone who has a passion for working closely with others as they grow in their lives and their faith. This is evident in her involvement in the city of South Bend, where she shares her gifts of compassion and wisdom as an algebra tutor, an aide at El Campito Day Care, and a volunteer at the Center for the Homeless. She is a coordinator at a preschool day camp during the summer. 
A member of Campus Ministry stated in a nomination letter, "Kelly frequently talks about how walking in solidarity with others has greatly affected her life and continues to change how she explores social issues, especially in the areas of children and education." A social work professor said in a nomination letter, "Kelly stands out as a leader and does this with grace. She is not only able to be assertive, but she is also open to listening to others and willing to work towards a common goal."

Kelly Gutrich '15, the 2013 recipient of the Saint Catherine
Medal, poses with sister and soon-to-be-graduate Kathryn
Gutrich '13 following Honors Convocation.Gutrich was surprised and honored to receive the award. "The Saint Mary's community is such a wonderful place filled with many outstanding women, so to be recognized for the role I have been able to play so far in my time here is a great honor.  I am humbled and honored by the Saint Mary's community for recognizing me with this award.  I feel beyond blessed to be a Saint Mary's woman and now a Saint Catherine Medal recipient," she said.
The Saint Catherine Medal is a tribute to Gutrich's considerable contributions to Saint Mary's College. Students, faculty and staff nominate candidates for this award and the Academic Affairs Council makes the final selection. The name of the recipient is not revealed until the Convocation.
About Saint Mary's College: Saint Mary's College, Notre Dame, Ind., is a four-year, Catholic, residential, women's liberal arts college offering five bachelor's degrees and more than 30 major areas of study, such as business, nursing, art, chemistry, and social work. The College's single-gender environment has been proven, in study after study, to foster confidence, ethical leadership, and strong academic success. Saint Mary's College ranks among the top 100 "Best National Liberal Arts Colleges" for 2013 published by U.S. News. Founded in 1844 by the Sisters of the Holy Cross, Saint Mary's College's mission is to educate women and prepare them for postgraduate success whether it's a first job, graduate school, or postgraduate service.