College Receives Final Volumes of The Saint John's Bible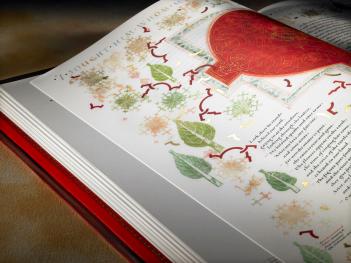 Click on the above image to see more photos of
The Saint John's Bible.Contact:
Gwen O'Brien
Director of Media Relations
Saint Mary's College
(574) 284-4579
June 21, 2013 (Notre Dame, Ind.)—Saint Mary's College has received the last two volumes of the rare Heritage Edition of The Saint John's Bible. The set includes a total of seven volumes. The recently received volumes make up the New Testament: Volume 6, Gospels and Acts, and Volume 7, Letters and Revelation. The Bible, a generous gift from Judy Rauenhorst Mahoney '74, was announced in the fall of 2010 when the first four volumes arrived. The Bible is on display at the Cushwa-Leighton Library at Saint Mary's College.

The Saint John's Bible is a handwritten and illuminated Bible that has taken a team of scribes and artists more than a decade to complete. It features 160 vibrant illuminations that include a blending of religious imagery from various traditions, cultures and creeds, as well as visuals from modern times. The illumination of a manuscript is a centuries-old practice where gold leaf is used to accent brightly colored illustrations. The intended effect is the gold, which reflects off the page, paired with the sacred word "reflects" God's presence.

The Heritage Edition is a full-size, fine art reproduction of The Saint John's Bible. The Bible is monumental in size. If all seven volumes were stacked on top of each other, the Bible would stand two feet tall. When opened, the two-page spread is three-feet wide. Producing The Saint John's Bible began in 1998, when Saint John's Abbey and University in Collegeville, Minnesota, commissioned world-renowned calligrapher and illuminator Donald Jackson to lead the project. It is the first handwritten and illuminated Bible to be commissioned by a Benedictine monastery since the advent of the printing press more than 500 years ago.  
Public viewing information: The public is invited to view the Heritage Edition of The Saint John's Bible at the Cushwa-Leighton Library at Saint Mary's College. Click for library hours. To arrange a field trip or group viewing of the Bible, contact Janet Fore, library director, by email at jfore@saintmarys.edu or (574) 284-5281.
About Saint Mary's College: Saint Mary's College, Notre Dame, Ind., is a four-year, Catholic, residential, women's liberal arts college offering five bachelor's degrees and more than 30 major areas of study, such as business, nursing, art, chemistry, and social work. The College's single-gender environment has been proven, in study after study, to foster confidence, ethical leadership, and strong academic success. Saint Mary's College ranks among the top 100 "Best National Liberal Arts Colleges" for 2013 published by U.S. News. Founded in 1844 by the Sisters of the Holy Cross, Saint Mary's College's mission is to educate women and prepare them for postgraduate success whether it's a first job, graduate school, or postgraduate service.