Cushwa-Leighton Library Hosts Two Exhibits in March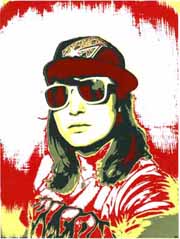 Self-portrait by N. Krou 2009 Contact:
Gwen O'Brien 
Director of Media Relations
Saint Mary's College
Notre Dame, IN 46556
(574) 284-4579 
March 7, 2012 (Notre Dame, Ind.)—The public is invited to enjoy two exhibits now on display in the lobby of the Cushwa-Leighton Library on the campus of Saint Mary's College.
The first is titled "Screen Works: 35 Years of Screen Printing." It is an exhibition of screen prints (a.k.a. serigraphs or silkscreens) created by Saint Mary's students in art professor Doug Tyler's silkscreen and photo silkscreen courses over the past 35 years. There are more than 60 works on display. The exhibition displays the versatility of the medium of screenprinting and its affinity for color. Various processes are on display, which document the leading edge screenprint practices employed in the course over the years. Included among the innovative practices are the early adoption of digitally assisted screenprinting technology, water-based print media, and direct stencil printing on glass and other transparent surfaces. The exhibit is on display through Tuesday, March 14.
The second exhibit, on display from March 19-31, is the 5th annual "SMC Open Photo Show." This exhibition features photos taken by Saint Mary's College students, faculty, and staff. It is an open competition on campus that does not specify or require specific subject matter or techniques. The students' Photography Club sponsors the competition and exhibit as an opportunity for the Saint Mary's community to share and display its talents,
Click for library hours and a campus map.
About Saint Mary's College: Saint Mary's College, Notre Dame, Ind., is a four-year, Catholic, women's institution offering five bachelor's degrees and more than 30 major areas of study. Saint Mary's College has six nationally accredited academic programs: social work, art, music, teacher education, chemistry and nursing. Saint Mary's College ranks among the top 100 "Best National Liberal Arts Colleges" for 2012 published by U.S.News and World Report. Founded in 1844, Saint Mary's is a pioneer in the education of women, and is sponsored by the Sisters of the Holy Cross.