Sister Simone Campbell, Leader of "Nuns on the Bus" Tour, to Speak at College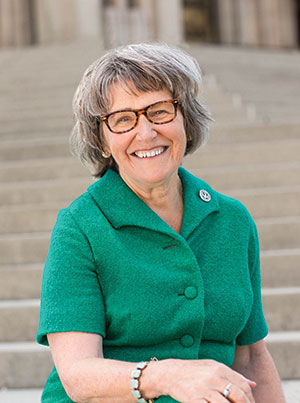 Sister Simone Campbell, SSS, is a 2014
Center for Spirituality spring lecturer.Contact:
Gwen O'Brien
Director of Media Relations
Saint Mary's College
(574) 284-4579
March 26, 2014 (Notre Dame, Ind.)—The Saint Mary's College Center for Spirituality will host Sister Simone Campbell, SSS, in a lecture series on the life and leadership of Catholic women religious. Sister Simone is an attorney, poet, and executive director of NETWORK, a national Catholic organization that advocates in Congress on issues of peace and justice. She will speak on "The Contemplative Call to Do Justice" on Tuesday, April 8, 7:30 p.m., Carroll Auditorium, Madeleva Hall. Click for a campus map.
Sister Simone was instrumental in organizing the 2012 cross-country "Nuns on the Bus" tour that drew attention to the human consequences of proposed cuts in federal funding to programs that serve people in need. The tour included a stop in South Bend. In 2013 she led a second "Nuns on the Bus" tour focused on comprehensive immigration reform. "Nuns on the Bus" received national attention from religious communities, elected officials, and the media.
"The 2012 and 2013 'Nuns on the Bus' tours stimulated a national conversation about challenging questions that are still with us," said Elizabeth Groppe, director of the Center for Spirituality. "How can we love our neighbors and do justice in a time of economic recession, federal budget deficits, and national debt? What public policies and personal actions will contribute to the development of an economy that more closely approximates the principles of Catholic Social Teaching: the dignity of the human person; the importance of family, community, and social participation; the fundamental right to life and the responsibility to contribute to society; the right to productive work and the dignity of labor; special concern for the vulnerable; solidarity with all members of the human family; and stewardship of creation?"
Prior to coming to NETWORK, Sister Simone served as the executive director of JERICHO, the California interfaith public policy organization that works on behalf of people living in poverty. She also participated in a delegation of religious leaders to Iraq in December 2002, just prior to the war, and served as part of a Catholic Relief Services delegation to Lebanon and Syria to study the Iraqi refugee situation. Before her appointment with JERICHO, she served as the general director of her religious community, the Sisters of Social Service, which has members in the United States, Mexico, Taiwan, and the Philippines. In 1978 she founded and served for 18 years as the lead attorney for the Community Law Center in Oakland, California, serving the family law and probate needs of the working poor.
Sister Simone has received numerous awards, including a Franklin D. Roosevelt Four Freedoms Award in 2013 and Mercyhurst University's 2014 Archbishop Oscar Romero Award.
About Saint Mary's College: Saint Mary's College, Notre Dame, Ind., is a four-year, Catholic, residential, women's liberal arts college offering five bachelor's degrees and more than 30 major areas of study, such as business, nursing, art, chemistry, and social work. The College's single-gender environment has been proven, in study after study, to foster confidence, ethical leadership, and strong academic success. Saint Mary's College ranks 76 among the 248 "Best National Liberal Arts Colleges" for 2014 published by U.S. News and World Report. Founded in 1844 by the Sisters of the Holy Cross, Saint Mary's College's mission is to educate women and prepare them for postgraduate success whether it's a first job, graduate school, or postgraduate service.