Social Work Students to Host Panel Talk on Homelessness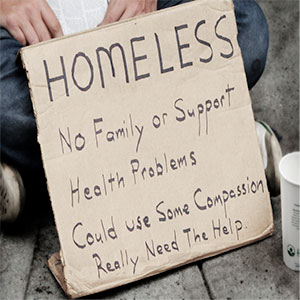 Contact:
Gwen O'Brien
Director of Media Relations
Saint Mary's College
Notre Dame, Ind. 46556
(574) 284-4579
March 11, 2014 (Notre Dame, Ind.)—Saint Mary's College social work students will host a community forum called "Homelessness: Together We Can Make a Difference" on Thursday, March 27 at 7 p.m. in Carroll Auditorium of Madeleva Hall. The public is encouraged to attend this free event.
For more than a decade, sophomores and juniors enrolled in the course Human Behavior and Social Environment II have put on the annual forum, which addresses an issue facing the South Bend community. Past forum topics include human trafficking, violence, issues facing the elderly, and the effect the economy has on families.
This year students chose to focus on homelessness and assembled a panel of experts on the subject. Since problems like drug abuse, mental illness, and gender inequality can be contributing factors to homelessness, the panel represents organizations that help people overcome these challenges.
The panel of experts includes:
Emily Perry Sims '09, director of events, media and donor relations, Center for the Homeless
Thomas Hoff, director of rehabilitation services, Salvation Army Adult Rehabilitation Center
Abigail Carr Foster '06, case manager, Hope Ministries
Beth Morlock, director of support services, YWCA
Tanika Harris, guest services assistant, St. Margaret's House
Bonnie Stryker, director, Youth Services Bureau
Oliver Davis, president, South Bend Common Council
Meredith Mersits '15 of South Bend, a social work major minoring in justice education and biology, said planning the forum has been a great experience for students.
"Professor Fran Kominkiewicz, our instructor, empowered us to take the reigns of this project," Mersits explained. "There was also a huge emphasis on group work in the creating of this panel; someone did not do everything, but everyone did something. Everyone truly stepped up and led in different ways, listened to members, and collaborated together. These will be great skills to have for our futures as social workers and other professionals."
Kominkiewicz said the act of putting on the event teaches students how to bring attention to an issue and actively help make positive changes in the community.
"Social work students are educated to engage in social work practice on three levels: micro (individual), mezzo (groups), and macro (communities, organizations, and society).  The intellect and skills the students bring to developing, organizing, and implementing the community forum provides them with a superb learning opportunity to simultaneously work with individuals, groups, communities, and organizations to bring about change," she said.
This event is generously supported by the Career Crossings Office and Sodexo Dining Services at Saint Mary's College.
About Saint Mary's College: Saint Mary's College, Notre Dame, Ind., is a four-year, Catholic, residential, women's liberal arts college offering five bachelor's degrees and more than 30 major areas of study, such as business, nursing, art, chemistry, and social work. The College's single-gender environment has been proven, in study after study, to foster confidence, ethical leadership, and strong academic success. Saint Mary's College ranks 76 among the 248 "Best National Liberal Arts Colleges" for 2014 published by U.S. News and World Report. Founded in 1844 by the Sisters of the Holy Cross, Saint Mary's College's mission is to educate women and prepare them for postgraduate success whether it's a first job, graduate school, or postgraduate service.