South Bend Chamber Singers to Share "Music for a Sacred Space"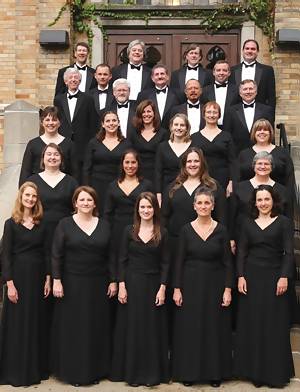 Pictured: South Bend Chamber SingersContact:
Gwen O'Brien
Director of Media Relations
Saint Mary's College
(574) 284-4579
April 30, 2012 (Notre Dame, Ind.)–The South Bend Chamber Singers (SBCS) will close out the ensemble's 23rd concert season with "Music for a Sacred Space" on Sunday, May 20 at 7:30 p.m. in the Church of Our Lady of Loretto on the Saint Mary's campus. The evening will feature guest organist David Eicher, who was the accompanist for the SBCS for 17 years. The concert will include George Frideric Handel's "Dixit Dominus," James MacMillan's "Magnificat," and Petr Eben's "Prague Te Deum."
"We don't often do early music, like Handel's piece, so it's a change for us. It's a good challenge," said Nancy Menk, conductor of the South Bend Chamber Singers. She points out that the rest of the program is contemporary. Menk is professor of music and director of choral activities at Saint Mary's College. She conducts the Women's Choir and the Collegiate Choir at the College and teaches graduate conducting at the University of Notre Dame.
The program's first piece, "Dixit Dominus," will feature several solo components. Handel composed the piece in 1707 when he was only 22. The piece uses the Latin text of Psalm 110, which begins with the words "Dixit Dominus" ("The Lord Said"). The work is in eight movements, scored for five-part chorus, soloists, strings and continuo.
"A lot of soloists are featured in the Handel piece," said Menk, whose goal is to provide a variety of music in the program.
"Magnificat" is one piece that features the organ. The choral style is simple and often homophonic, according to Menk. 
The "Te Deum," which in Latin means "You, God," was first performed in Prague on April 20, 1990 at a concert given in honor of Pope John Paul II on the eve of his visit. The piece is a vibrant hymn of praise and thanksgiving that celebrates the spirit of hope and endurance.
The SBCS, an ensemble-in-residence at Saint Mary's College, was founded in 1989 and the 30 members have extensive musical backgrounds. The SBCS draws members from throughout north central Indiana and southwestern Michigan. The ensemble concentrates on works by living composers, but its repertoire includes traditional compositions and unusual and complex arrangements.
Click for campus map. Tickets can be purchased online at moreaucenter.com or by visiting the Moreau Center box office in person Monday-Friday, 9 a.m. to 5 p.m. or by calling (574) 284-4626.
Ticket prices are as follows:
Adults:  $16
Senior Citizens:  $13
SMC/ND/HCC Faculty and Staff:  $11
Students: $6
About Saint Mary's College: Saint Mary's College, Notre Dame, Ind., is a four-year, Catholic, women's institution offering five bachelor's degrees and more than 30 major areas of study. Saint Mary's College has six nationally accredited academic programs: social work, art, music, teacher education, chemistry and nursing. Saint Mary's College ranks among the top 100 "Best National Liberal Arts Colleges" for 2012 published by U.S.News and World Report. Founded in 1844, Saint Mary's is a pioneer in the education of women, and is sponsored by the Sisters of the Holy Cross.