Spring Choral Concert to Feature the College's Two Choirs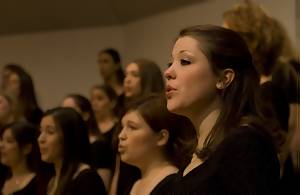 Pictured: Women's ChoirContact:
Gwen O'Brien 
Director of Media Relations
Saint Mary's College
Notre Dame, IN 46556
(574) 284-4579
April 28, 2012 (Notre Dame, Ind.)—The Women's Choir and Collegiate Choir at Saint Mary's College will present the Department of Music's annual Spring Choral Concert on Thursday, May 3. It will take place in the Little Theatre, Moreau Center for the Arts at 7:30 p.m. (campus map)
The spring concert closes out the academic year and the performance traditionally ends with the piece "The Bells of Saint Mary's." The music is chosen to provide a variety of styles. Vaughan Williams' "Magnificat" is an extended piece that will feature a soprano solo from Ashley Biehl '12 and a flute solo by Ellen Frazee '15. Music professor Nancy Menk, conductor for the program, looks forward to showcasing the hard work of the two choirs.
The Women's Choir, a select 40-voice ensemble, regularly commissions and performs new works for women's voices. The choir has performed throughout the United States and has appeared before state and division conventions of the Music Educators National Conference and the American Choral Directors Association. The Women's Choir has been invited to perform at the ACDA National Symposium on American Choral Music in Washington, D.C. at the end of June. All of the pieces they perform at the symposium will be by American women composers—half from the turn of the 20th century and half from the turn of the 21st century.
The Collegiate Choir performs primarily on campus, giving at least one concert per semester and performing in the annual Service of Lessons and Carols during the Christmas season. They often perform with the Women's Choir and the Notre Dame Glee Club in joint performances with the South Bend Symphony Orchestra. 
Participation in either choir requires a great deal of work, explained Menk. "This is the best they've sounded, ever," Menk said of the Collegiate Choir.
Tickets may be purchased at moreaucenter.com or by visiting the Moreau Center box office Monday-Friday, 9 a.m. to 5 p.m. or calling (574) 284-4626.
Ticket prices are as follows:
Adults:  $11
Senior Citizens:  $9
SMC/ND/HCC Faculty and Staff:  $8
SMC/ND/HCC Students: Free with ticket
About Saint Mary's College: Saint Mary's College, Notre Dame, Ind., is a four-year, Catholic, women's institution offering five bachelor's degrees and more than 30 major areas of study. Saint Mary's College has six nationally accredited academic programs: social work, art, music, teacher education, chemistry and nursing. Saint Mary's College ranks among the top 100 "Best National Liberal Arts Colleges" for 2012 published by U.S.News and World Report. Founded in 1844, Saint Mary's is a pioneer in the education of women, and is sponsored by the Sisters of the Holy Cross.