Students "Stand Up To Cancer" with a Community Dinner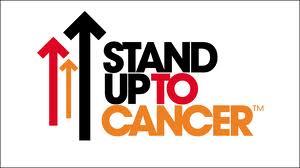 Contact:
Gwen O'Brien
Director of Media Relations
Saint Mary's College
(574) 284-4579
February 19, 2014 (Notre Dame, Ind.)—The Saint Mary's College student club SMC Stands Up To Cancer will host its 3rd annual "Don't Stop Believin' Celebration of Life" event on Saturday, March 1. This year's event will be a dinner party at Saint Mary's College in honor of those in the South Bend area who have been affected by cancer. The party will be held in the Student Center Lounge from 6 to 10 p.m. It is open to the public and intended for cancer patients, survivors, caregivers, and family members. Space is limited. Reservation information can be found below. Click for a campus map.
"We want to show these local heroes that we 'stand up' for them," said Christina Hutch '15, a nursing student and president of the club.
The event will include a buffet dinner with dessert provided by Sodexo Dining Services. Entertainment will include drawings for door prizes and balloon animals for children. There will also be a DJ and the opportunity to dance   
"Everyone in our club has been affected by cancer in some way, and that's why we are having this event. We do a lot of fundraising for the national organization Stand Up to Cancer throughout the year, but this event is a way for us to let the people in our community know that we are behind them, and we celebrate them," said Hutch.
The event is free of charge but space is limited. If you are interested in attending, please contact Christina Hutch by Wednesday, February 26, at chutch01@saintmarys.edu.       
About Saint Mary's College: Saint Mary's College, Notre Dame, Ind., is a four-year, Catholic, residential, women's liberal arts college offering five bachelor's degrees and more than 30 major areas of study, such as business, nursing, art, chemistry, and social work. The College's single-gender environment has been proven, in study after study, to foster confidence, ethical leadership, and strong academic success. Saint Mary's College ranks 76 among the 248 "Best National Liberal Arts Colleges" for 2014 published by U.S. News and World Report. Founded in 1844 by the Sisters of the Holy Cross, Saint Mary's College's mission is to educate women and prepare them for postgraduate success whether it's a first job, graduate school, or postgraduate service.