Students Organize "Hunger Banquet" to Teach Lessons on Poverty and Hunger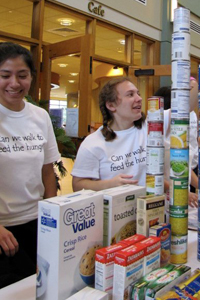 Students collect food for the Holy Cross
Harvest, another hunger-related event
currently going on at the College.Contact:
Gwen O'Brien
Director of Media Relations
Saint Mary's College
Notre Dame, Ind.
(574) 284-4579
November 10, 2011 (Notre Dame, Ind.)—November is a month for giving thanks and a time to give back to the community. Saint Mary's College has various events this month that raise awareness on campus about poverty and hunger. One such event is the Student Diversity Board's 7th annual Hunger Banquet on Tuesday, November 15 at 6 p.m. in the Student Center Lounge. While the event is not open to the public, the media is invited to cover the event.
The Hunger Banquet is no ordinary dinner. When students, faculty, and staff walk through the doors, they take on new identities. They draw slips of paper that give each of them a role to play. One person could be a millionaire, and another could be a single parent working three jobs and barely able to make rent. Once in a role, each participant is categorized into one of three social classes: lower, middle, and upper. The participant's role determines what and how much food is placed on his or her plate. The rich get more and the poor may have to stretch their portions to feed other family members. The banquet gives participants the opportunity to walk in someone else's shoes and discuss issues related to hunger in third-world countries and in the United States.
"Not all of the participants of the Hunger Banquet will leave with a full stomach, but many will gain a new perspective on the experiences and statistics of hunger and poverty. The idea is that they will feel motivated to take on poverty and hunger issues," said Kelly Reidenbach '12, president of the Student Diversity Board (SDB).
The planners of the banquet invited some clients of the Center for the Homeless to the dinner, and with the help of the American Red Cross in South Bend, they also invited a family that sought refuge from their native country in Michiana. Through conversation, the guests will share their stories of hunger and despair with the Saint Mary's community.
"The Hunger Banquet is an excellent opportunity for students to experience the life of those less fortunate, especially when it comes to issues of poverty and justice. Learning about hunger through a hands-on experience allows us to better understand those who may not have the same opportunities that we do. Feeling hunger for many of us students can last maybe an hour, but for some individuals it can last months and maybe even years. This event allows us to take a stance in the fight against hunger and poverty," explained London Lamar '13, co-chair of the banquet.
In addition to Lamar, the Hunger Banquet committee is made up of SDB members Bridgett Fey '13, Rita Coeling '12, and Anabel Castañeda '12.
The SDB's purpose is to increase diversity awareness on the Saint Mary's campus and the surrounding community and to educate students to embrace each other's differences.
About Saint Mary's College: Saint Mary's College, Notre Dame, Ind., is a four-year, Catholic, women's institution offering five bachelor's degrees and more than 30 major areas of study. Saint Mary's College has six nationally accredited academic programs: social work, art, music, teacher education, chemistry and nursing. Saint Mary's College ranks among the top 100 "Best National Liberal Arts Colleges" for 2012 published by U.S.News and World Report. Founded in 1844, Saint Mary's is a pioneer in the education of women, and is sponsored by the Sisters of the Holy Cross.