Nursing Students to Host Christmas Party for Families in Pediatric Respite Program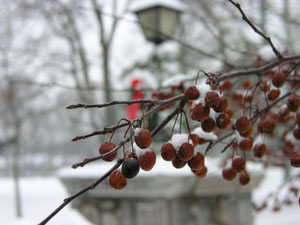 Contact:
Gwen O'Brien
Director of Media Relations
Saint Mary's College
Notre Dame, Ind.
(574) 284-4579
December 7, 2011 (Notre Dame, Ind.)—The Saint Mary's College Student Nursing Association (SNA) will bring some holiday cheer to four local families with children with special needs. Tomorrow evening, SNA will host a Pediatric Respite Christmas Party for families that student nurses work with through the nursing department's Pediatric Respite Program. It's a program in which nursing students provide care to children with special needs, giving family caregivers a break. Caring for children with special needs can be stressful, both emotionally and financially, for parents. The Christmas celebration is intended to offer the families an evening of joy and gifts.
SNA members and nursing majors Julia Humphrey '12, Remi White '12, Colleen Hughes '12, and Madeleine Stoll '12 suggested throwing the party. "Being in nursing at Saint Mary's, I am reminded daily that the most important achievement you can make is to have a positive impact on others," Humphrey said.  
The meals are provided by Dining Services (Sodexo). The holiday feast includes sautéed chicken breast with a light supreme sauce, carved roast beef with a demi-glaze sauce, carved turkey with gravy, herb roasted potatoes, broccoli and cheddar casserole, and an assortment of holiday cakes and pies.
Dinner is not the only aspect that the families have to look forward to. Santa Claus will be making a special appearance to deliver gifts to the children.
"When I called the four families, each parent became choked up on the phone," Humphrey said. "I teared up myself and chills ran down my spine. The parents we work with say they are incredibly fortunate and blessed to be part of the program, but I believe that we are blessed to work with them. As social activist Dorothy Day said, 'You will know your vocation by the joy that it brings you. You will know. You will know when it's right.'"
Jayne Kendle, associate professor of nursing, teaches the Child Health Nursing course during which students participate in the Pediatric Respite Program. "To me, this Christmas party, and all the planning and effort that went into it, exemplifies what makes a Saint Mary's woman special. Intelligent, dedicated, determined women coming together to make a difference in the lives of others," Kendle said. "I could not be prouder of the women who have made this Christmas party a reality. They have worked hard to make the lives of four special families a little better this Christmas. It is truly a privilege to see students practice what we (faculty) preach."
Humphrey said that SNA would like to thank Barry Bowles, director of Dining Services, for providing the dinners; nursing students and their families and friends who have given generous donations of time and money for the party; Donald Karches, president of Merchandise, Inc. and the father of two Saint Mary's nursing students, for the donation of items to create stockings; Lowe's for the donation of poinsettias; Burns Rent All for the Santa costume; Colette Couture, Humphrey's mother, for Christmas decorations; SNA faculty advisor Annette Peacock Johnson, associate professor of nursing, for her support; and the parents of the Pediatric Respite Program children who give so much of themselves to provide for their children in a loving and selfless manner.
About Saint Mary's College: Saint Mary's College, Notre Dame, Ind., is a four-year, Catholic, women's institution offering five bachelor's degrees and more than 30 major areas of study. Saint Mary's College has six nationally accredited academic programs: social work, art, music, teacher education, chemistry and nursing. Saint Mary's College ranks among the top 100 "Best National Liberal Arts Colleges" for 2012 published by U.S.News and World Report. Founded in 1844, Saint Mary's is a pioneer in the education of women, and is sponsored by the Sisters of the Holy Cross.