Students Receive Grant to Curb Teenage Sexual Harassment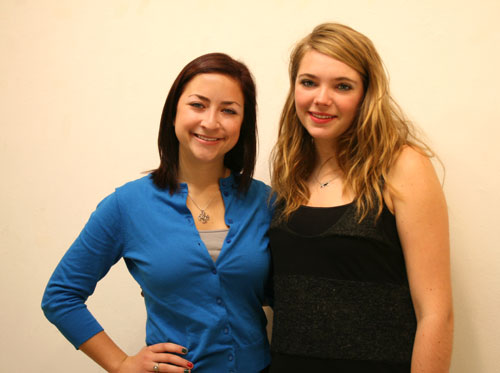 Cat Cleary '12 (left) and Laura Corrigan '13 were awarded a
grant to initiate a sexual harassment awareness program at
local high schools.
Contact:
Gwen O'Brien
Director of Media Relations
Saint Mary's College
Notre Dame, Ind.
(574) 284-4579
December 14, 2011 (Notre Dame, Ind.)—Saint Mary's College is proud to announce that two students received a Campus Action Project (CAP) grant through the American Association of University Women (AAUW) to start a program addressing teenage sexual harassment. Catherine (Cat) Cleary '12 of Fridley, Minn. and Laura Corrigan '13 of New York City will use the $3,900 grant to develop "Use Your Voice", a program they created and plan to introduce to area high schools in the spring of 2012. In all, AAUW awarded $28,000 in CAP grants to seven colleges to fund programs that address sexual harassment in middle and high schools. It is the first time that Saint Mary's students have received an AAUW grant.
"Receiving this grant shows that students at Saint Mary's are concerned enough about younger women to want to reach out and educate them on the important matter of sexual harassment. It also shows that our students can compete with larger schools and receive recognition for their hard work," said Vice President for Student Affairs Karen Johnson. "Cat and Laura are dedicated to working with women and providing education and support. They are both hard workers who have a vision. I am very proud to work with them."
This year's CAP grants focus on issues raised in AAUW's research report, Crossing the Line: Sexual Harassment at School. According to AAUW, the report is the first in 10 years to include nationally representative data about sexual harassment in grades 7–12. Data from the report show that sexual harassment, including cyber-harassment, is prevalent in middle and high schools today. Sexual harassment often negatively affects students' education, and most students feel that their schools should do more about it.
"Use Your Voice" is an educational, interactive 60-minute program that Cleary and Corrigan plan to present to freshman high school students. The program will include a writing session where students can use their voice to share their thoughts on the topic. The workshop will also help students create a plan of action for how to address and deal with sexual harassment.
"By targeting and informing this age group, I think we can begin to combat this issue which greatly affects many people throughout their entire lifetime," said Corrigan, an English writing and self-designed women's studies double major with a minor in intercultural studies. "Not everyone gets the opportunity to personally implement programs based on issues they deeply care about so I am grateful for this amazing opportunity. I am looking forward to working with Cat because we both have similar enthusiasm when it comes to being engaged in issues in the community."
Cleary and Corrigan are very familiar with AAUW. Last academic year, Cleary served on the organization's Student Advisory Council (SAC) and Corrigan was appointed to SAC this fall. Just ten collegiate women a year serve on the council.
"Since I served on SAC, I have been involved with and aware of the various opportunities they have to offer and I knew Saint Mary's College couldn't pass this one up. The Campus Action Project Grant will give Saint Mary's a wonderful opportunity to create change in the community and impact a future generation," Cleary explained, who is pursuing a student-designed major that focuses on public policy, law, power, and privilege.
The other schools receiving CAP grants are Dakota State University (South Dakota), Jefferson Community College (New York), Millersville University (Pennsylvania), Pacific Lutheran University (Washington), University of Central Florida, and the University of Kentucky. AAUW will fund one member of each team to attend and present on their projects at the National Conference for College Women Student Leaders in Washington, D.C., from May 31 through June 1, 2012. Cleary will represent the Saint Mary's College team. Corrigan will attend as a SAC member.
About Saint Mary's College: Saint Mary's College, Notre Dame, Ind., is a four-year, Catholic, women's institution offering five bachelor's degrees and more than 30 major areas of study. Saint Mary's College has six nationally accredited academic programs: social work, art, music, teacher education, chemistry and nursing. Saint Mary's College ranks among the top 100 "Best National Liberal Arts Colleges" for 2012 published by U.S.News and World Report. Founded in 1844, Saint Mary's is a pioneer in the education of women, and is sponsored by the Sisters of the Holy Cross.